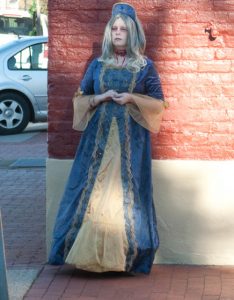 Here's my curated list of 13 haunted history podcasts.
I am very picky about audio quality and storytelling. I have shut off podcasts after only five minutes if said podcasts didn't meet my standards. I recommend these thirteen podcasts because I enjoyed them.
These aren't specific to Pennsylvania.
1.) American Hauntings Podcast by Troy Taylor and Cody Beck (The entire first season is about Alton, Illinois and the entire second season is about St. Louis, Missouri. The second season includes a multi-episode feature on the Lemp family. The audio quality of the episodes in the middle of the first season is not great. However, the audio quality improved greatly in the second season. I thoroughly enjoyed the history and storytelling.)
2.) Snap Judgement Presents: Spooked From WNYC Radio
3.) Lore by Aaron Mahnke
4.) Haunted Places from Cutler Media and part of the Parcast Network
5.) New England Legends by Jeff Belanger and Ray Auger
6.) Southern Grimoire by K D Burr
7.) Southern Mysteries Podcast by Shannon Ballard
8.) South Gothic by Brandon Schexnayder
9.) Southern California Ghosts and Folklore hosted by Susan Burns
10.) Why Is This Place So Haunted from Destination America  – I think that this podcast consists of only 2 episodes. Both are posted on iTunes. The first episode is about the Rhode Island Shore and the second episode is about Gettysburg, Pennsylvania.
11.) Hurstories  by the students of Mercyhurst University's Digital History: Storytelling Class –  Mercyhurst University is in Erie, Pennsylvania. (Disclosure: My little sister currently attends Mercyhurst. She didn't take this Digital History course. Also, this podcast series was produced before my sister enrolled at Mercyhurst.)  "Hurstories" includes 4 episodes of Mercyhurst ghost stories.
12.) Curious City by WBEZ in Chicago – See the October 2014 episode "We Ain't Afraid of No (Chicago) Ghosts!"
13.) The Bowery Boys: New York City History by Greg Young and Tom Meyers – See the annual ghost story episodes posted each October.
Bonus:
Biscayne Tales: The Miami History Podcast  – The episode from October 2014 is titled "Ghosts of the Biltmore."