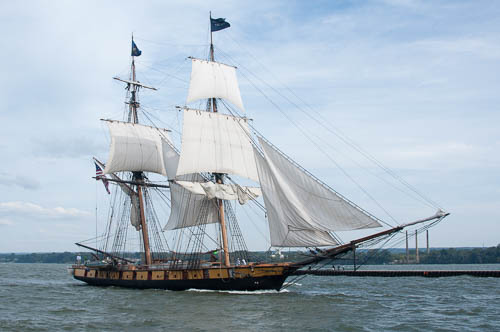 When I read about the American Civil War and the years leading up to it, I come across a lot of men named after "Stephen Decatur." I know this, because the men all have "Stephen" for a first name, and "Decatur" for a middle name.
The American Civil War started in 1861. So, I guessed that these men were born in the first few decades of the 1800's.
Stephen Decatur served as an officer in the United States Navy from 1798 – 1820. I'll make this quick because anyone with an interest in naval history can just read all of this on Wikipedia. However, Decatur fought pirates along the Barbary Coast of North Africa. He witnessed his own brother, James's, burial at sea after one of these battles. He earned a Medal of Honor. He died young as a national hero.
Here's an example of how highly folks regarded Decatur: I listened to Episode 9: A Devil on the Roof from the Lore podcast by Aaron Mahnke. This episode told the myth of the Jersey Devil in New Jersey's Pine Barrens. According to the folklore, Decatur saw the Jersey Devil as he tested cannon balls in Burlington, New Jersey. The legend maintains that Decatur fired a cannon at the Jersey Devil but that the Jersey Devil flew away. This myth implies to me that if such a decorated hero as Decatur saw and reacted to the Jersey Devil, then us common folk should believe that the Jersey Devil actually existed.
I don't know if Decatur actually saw the Jersey Devil and fired a cannon at it.
However, in 1818 Decatur did actually build his residence in Lafayette Square in Washington, a very short walk from the White House. Before this, Decatur married Susan Wheeler, a woman who had already rejected the romantic intentions of Aaron Burr and Jerome Bonaparte (Napoleon's brother). Decatur and Susan entertained the elite of Washington society in their gorgeous Lafayette Square home. (In fact, you can still visit this "Historic Decatur House.")
So, after all of the struggle and success, Stephen Decatur agreed to duel another naval officer, James Barron, in 1820. Decatur shot Barron. Barron shot Decatur. Decatur died at the age of 41. Barron survived for several more decades.
Wikipedia gives a lot of information about the duel, so I'll make this short. The Decatur / Barron duel resulted after Decatur served on Barron's court-martial for surrendering a ship, Chesapeake, to the British. Some Wikipedia sources imply that Decatur and Barron meant to call off the duel or else not actually shoot each other, but their "seconds" encouraged things to proceed as they did. Also, Decatur left for his duel without telling his wife about his plans. (Alexander Hamilton did the same thing to Eliza in the Hamilton musical before Hamilton dueled with Aaron Burr and died.)
Decatur's fatal duel occurred in Maryland at the Bladensburg Dueling Grounds.
You read correctly: so many duels happened before the Civil War that the Washington elite journeyed to a designated dueling grounds. In fact, I learned from Wikipedia that Francis Scott Key's son, Daniel, died after a duel that started over a dispute about the speed of a boat.
Now, since I spend time in Erie along the shore of Lake Erie, I know that another naval officer, Oliver Hazard Perry, is the hero of the Battle of Lake Erie during the War of 1812. I just learned that in 1818, Perry fought in a duel and he chose Decatur as his own "second." Nobody died or suffered gunshot wounds in that duel.
(If you go to Lafayette Square today, you will see a statue of Andrew Jackson sitting on a horse. Right now in 2019, Jackson's mug decorates our American twenty dollar bills. However, back in 1878, Decatur's face graced the twenty dollar bill. Here's why I find this peculiar: Decatur fought a duel in which he died and his opponent was injured. Jackson fought a duel in which Jackson's opponent died, but Jackson suffered an injury and lived. That's right: Andrew Jackson shot and killed a man in a duel before he became POTUS.)
Dueling declined after the American Civil War. I learned on Wikipedia that the last Bladensburg duel occurred in the late 1860's. I read in a book of Maryland folklore that a suburban housing development now sits on most of Bladensburg's "dueling grounds."
I thought tonight about what our society, our country would look like if people still challenged each other to duels. I read about so many posters on social media who tell the rest of us about how badly another social media user offended them. What if these angry people on Twitter or Facebook or wherever demanded "satisfaction" from each other by dueling? How would these people chose their "seconds?" Would they pick social media friends to be "seconds," or would these duelers chose from their real life friends? Do any of these social media users (myself included) actually have any real life friends?
How would law enforcement handle dueling today? Would law enforcement arrest the duelers of color, but ignore the white duelers?
Finally, if somebody offended me on social media, would I challenge the offender to duel with me personally? Or should I expect my husband to defend my honor?
Ugh, so many questions!
Check back for future posts here about history and traveling.