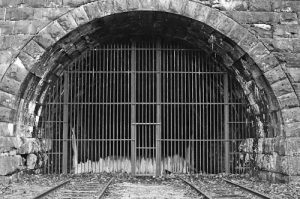 Come see the western entrance to Bow Tunnel.
This former canal tunnel treks under Bow Ridge. The eastern side of this tunnel lies, sealed off, under the water of the Conemaugh River for part of the year.
You can take the West Penn Trail to reach the other side of Bow Ridge on foot. Then proceed two or three more miles to reach the ghost town of Livermore.
You can see this tunnel for yourself at the Tunnelview Historic Site.
Jonathan, his mom Fran, and I visited Tunnelview in February 2016 when I took this photo.  Here is the post that I wrote on our other blog when we returned from that trip.
Finally, here's a photo that I didn't post our other blog: the February ice inside Bow Tunnel.