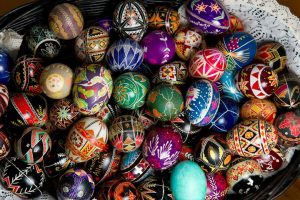 This is Jonathan's family's collection of pisanka (or pysanka) eggs. Jonathan's uncle crafted all of these when he still lived right outside of Pittsburgh. (Uncle did the whole "go west, young man" thing when the steel industry collapsed in the 1980's.)
Jonathan's Babcia (Polish for grandmother) set these out every Easter.
I mention all this on my blog about Pennsylvania because Jonathan's family traditions and his family's Polish and Slovak roots partly wrote PA's history.
I will post morsels of Easter traditions throughout the holiday weekend. Have a blessed Holy Thursday.