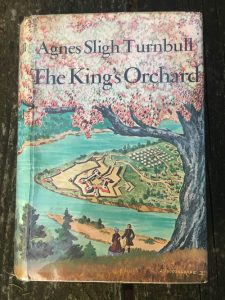 Cemetery talk prompted this post.
The Community Library of Allegheny Valley announced an informational session at its Tarentum branch about the history of Prospect Cemetery in Brackenridge, PA.
I learned about this talk from our local newspaper. I cannot attend the session. However, I DID attend a "ghost" (and history) tour at Prospect Cemetery one Halloween.
I learned that Hugh Marie Brackenridge and his wife and family are prominently buried at Prospect Cemetery in Brackenridge.
Hugh Marie's father, Hugh Henry Brackenridge, founded both the University of Pittsburgh and also the Pittsburgh Post-Gazette.
And then I read the novel "The King's Orchard" by Agnes Sligh Turnbull. This historical fiction follows General James O'Hara (George Washington's quartermaster and Mary Schenley's grandfather), with Hugh Henry Brackenridge as the protagonist's good friend.
And here's what I learned from "The King's Orchard" (and also from the internet) about the Brackenridge lore:
1.) Hugh Henry Brackenridge grew up poor on a farm in New England. He borrowed other people's books. A cow ate one of these borrowed books.
2.) Hugh Henry saved up enough money to send himself to the school that became Princeton University.
3.) The first time that Hugh Henry saw his wife Sabina, he was a lawyer headed to the courthouse in Washington PA. Sabina was a farmer's daughter chasing after a runaway cow. (Cows are a theme here!)
Hugh Henry watched Sabina vault over a fence without touching the fence. Then, he told the other lawyers that if Sabina did it again, he would ask Sabina to marry him. She did it again.
Sabina's father said that Hugh Henry couldn't marry Sabina because dad needed Sabina to "shrub the meadow." Hugh Henry paid Sabina's father $10 to hire somebody else to "shrub the meadow."
4.) Hugh Henry (again, the founder of Pitt) wanted a political career. Sabina had no education. So after the wedding, Hugh Henry sent his new wife to finishing school in Philadelphia for a year.
5.) Hugh Henry's son (Sabina's stepson) was Hugh Marie Brackenridge.