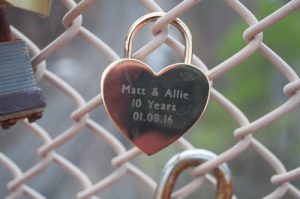 This has nothing to do with bike trails.
However,  Pittsburgh Magazine published a story yesterday (April 30, the day after my own wedding anniversary) about Newly Married Couples (NMC)  who made their love and commitment "more real" by sticking a lock on a bridge after their weddings.
I couldn't pass up the chance to blog about this because I like to joke with my husband and sisters about the "bridge lock thing."
See, I work in downtown Pittsburgh and my husband works a few miles away in Oakland. Both areas are hot spots for the trendy new Pittsburgh "tradition" of couples IN LOVE to write or engrave their names on a lock.  Next, the couple closes "their" lock around the chain link fencing of a Pittsburgh bridge.
This "bridge lock thing" started in Europe and spread to Pittsburgh. (Granted, A LOT of things started in Europe and spread to the New World.) And the whole practice generates controversy – about bridge safety, among other issues –  in Europe and in Pittsburgh.
This "bridge lock thing" was not a thing when I met and married my husband. Otherwise, I KNOW that I would have begged my husband for us to do this. Actually, I asked my husband to do this a few years ago for our anniversary. (I'm human.) My husband did not agree to do the "bridge lock thing."
Now I joke.
I joke that somewhere on the internet sits a wedding message board where brides and grooms groupthink the whole lock thing. That they strategize their wedding day visit to a Pittsburgh bridge for the "locking of the lock." That they include a "bridge lock photo" among their list of "must-have" photography shots.
Here is what I satirized about this in April 2016:
Some of the locks on Schenley Bridge look as if they were engraved at Things Remembered. And those locks have dates, like a wedding date.  In this scene in my head, a wedding limo stops on the bridge. A Newly Married Couple (NMC) get out of the limo and place an engraved lock on the bridge. They pose for a photo as they fasten their lock to the bridge, together. It's their first act as a couple. They do this before they even change their Facebook statuses from "Engaged" to "Married."
I told this all to Jonathan. And then we joked that this is what really happened: The bride-to-be probably joined the Pittsburgh board on The Knot. All of the other brides (called Knotties) on the Pittsburgh board talked about ordering an engraved LOCK from Things Remembered. This bride also needed a LOCK from Things Remembered to commemorate The Day. She added this to her wedding "to-do" checklist. (The "to-do" checklist is the Bible for Knotties.) This bride made the groom go to Things Remembered with her the same day that they picked out the wedding bands. She put her groom in charge of remembering to bring their LOCK to the ceremony. He forgot to do this. After the Newly Married Couple took their deathless vows and climbed into their limo, she asked him for the LOCK. He didn't have it.  Married for 30 minutes, and the groom was already in trouble with his wife. After they came back from their honeymoon, they FINALLY placed their LOCK onto the Schenley Bridge. Then they rented a loft in a trendy city.
And now I see, by reading Pittsburgh Magazine, that this is no joke.  That couples actually plan this as cherished rituals of their wedding days.  I wish them much peace and love.