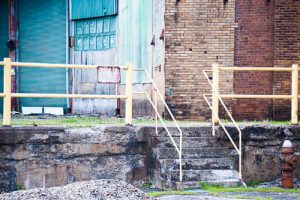 On April 29, my husband Jonathan and I celebrated our wedding anniversary. We drove to McKeesport to try out a "new to us" section of the Great Allegheny Passage bicycle and walking trail.
The McKeesport Police Department sits next to the trail and offers free parking to trail users. So, we parked at the McKeesport Police Department.
We biked past this vacant train roundhouse.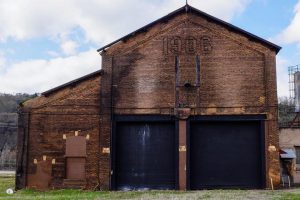 We crossed the Monongahela River (the Mon) on this former railroad bridge.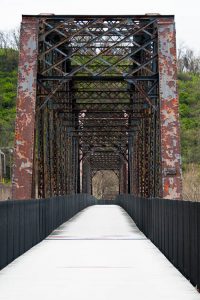 Then we rode alongside miles of working Norfolk Southern, CSX, and Union Railroad rails. We peddled past Kennywood Park roller coasters running cars of screaming passengers. (Kennywood's open!!!!)
I don't have any roots in McKeesport. However, I can tell you a little bit about McKeesport's saga and struggle with steel.
My mom grew up in Pittsburgh when Pittsburgh and McKeeport and all of the other river towns here thrived with steel mills. (Thrived with the money that steel brought here.)
When I replay the childhood visits to my grandparents' house in the Burgh, I smell the sulfur. I see the mills glowing on Christmas Eve.
I was born in central Pennsylvania right before the Pennsylvania steel industry collapsed. Aunts, uncles, cousins, and neighbors left the state. Then my friends from high school left the state. Then my friends from college left the state. Then three of my sisters and my sister-in-law left the state.
Which is my way of saying that I know that bike trails alone won't bring all of these people back to Pennsylvania. But it was fun to bike past all of this history last Sunday.