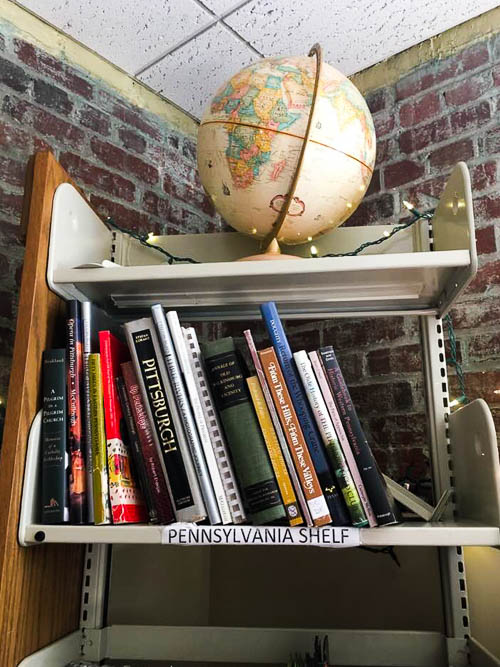 I removed a book from the Oakmont Carnegie Library without "checking it out," and I have no plans to return it.
The Oakmont Carnegie Library includes in its basement the Squirrel's Nest, a used bookstore. You can purchase used books and other items during library hours.
I like to browse the "Pennsylvania Shelf" at the Squirrel's Nest. See the above photo. I took that photo with my phone minutes before I pulled from it that book which says "Pittsburgh" on its grey and black spine.
This book is titled Pittsburgh: The Story of an American City, by Stefan Lorant. I purchased this signed third edition of this 670-page coffee table book for five dollars at the Oakmont Library's Squirrel's Nest.
The copy in my possession has a copyright date of 1980, but the book also lists a copyright date of 1964 for the first edition.
That's right. For five dollars, I purchased a 670-page time capsule of Pittsburgh from 1964-1980. Signed by Stefan Lorant.
On page 416, I read the following: The Three River(s) Arts Festival started in 1960 and has been repeated each summer ever since. Its main features are an open-air exhibition of paintings, performances of plays and high school band concerts. 
I mention this because the Three Rivers Arts Festival is currently underway for 2018. I have attended it every summer now for over a decade in order to watch national acts on the main stage. I have never seen a high school band perform at the Arts Festival. (Not to knock high school bands. I played the clarinet in my own high school band for four years.)
Here are some other favorite gems from Pittsburgh: The Story of an American City:
From pages 488 – 489, the caption under 4 page-length photos of women wearing miniskirts: "Pittsburgh girls have the most beautiful legs in the world," says a Frenchman, says an Italian, says a Turk, says a German, says a Hungarian. Nevertheless – it is the truth.
From pages 490-491, the caption under 4 page-length photos of women wearing skirts and shorts: If these Pittsburgh girls would walk in Paris all sidewalk cafes would be filled by males. But alas, Paris does not have the steep hills of Pittsburgh to develop shapely leg muscles.
From pages 572 and 573, the caption under 4 page-length photos of women wearing split skirts: The miniskirt of the seventies (see pages 488-491) is superseded by the split skirt of the eighties. Though fashion trends have changed, the women of Pittsburgh remain as beautiful as ever.
From pages 592-593, the caption under 4 page-length photos of men wearing suits: The men of Pittsburgh are immaculately dressed, even on the hottest summer day they wear a vest and a tie – downtown executives are conscious of changes in fashion.
Thus were Pittsburgh men, women, and "girls" in 1964-1980.
P.S. After I published this blog post, I did some digging (Google search) and I learned that Stefan Lorant was born in Hungary and he was imprisoned for opposing Hitler in the 1930's. He became famous for documenting all this after he fled to England. Really famous. So famous that Edgar Kaufmann (the department store titan and owner of Fallingwater) wooed Lorant – persistently –  until Lorant agreed to author Pittsburgh: The Story of an American City. 
A few years ago, I would have played it off that I totally knew that Stefan Lorant was a famous filmmaker, photojournalist, and magazine editor. But the truth is that I had no idea until about 15 minutes ago.
So if you knew who Stefan Lorant was before you read my blog post, then:
1.) Congratulations. You are more well read than I am.
2.) Please continue to enjoy my blog.
3.) You can help me to figure out if I can sell my signed copy of Pittsburgh: The Story of an American City for more than the five dollars that I paid for it.