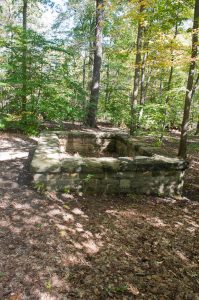 They call this your grave. Your haunted grave.
Little girls grow up fast in the American colonies. You turn nine years old in 1775. Your native Virginia erupts in seven years of rebellion, of war, of sacrifice.
Did you ever know a time free of hunger and sacrifice? At what point did your widowed mother open her Richmond door as a boardinghouse?
At what point did your boarder, Albert Gallatin, fall in love with you? Was this before or after he told you of his dream to live on a remote estate in the Pennsylvania wilderness?
And did your mama know – just KNOW – of your early death, far from everything you knew,  on the edge of the Appalachian Mountains?
Is that why your mama opposed the match?
You eloped in May 1789.
You begged your mama's forgiveness. Then you set off with Mr. Gallatin for his Pennsylvania estate, Friendship Hill.
And five months later you died.
How did you die? Illness? Pregnancy complications? Or, as one legend goes, something darker, more gruesome?
Mr. Gallatin buried you in an unmarked grave overlooking the Monongahela River.
Mr. Gallatin later remarried and sold Friendship Hill because his new wife didn't like to spend time there.
Another homeowner found your grave and reburied you. We now believe that you are buried in that stone square behind your former house.
The countryside of Friendship Hill became Fayette County. Friendship Hill became a public park.
One day I read an article in my local media about Friendship Hill. About the ghosts of Friendship Hill. About the ghost of you.
I drove out to Friendship Hill to see your grave.
I visited your grave on a bright sunny day. No ghosts at your grave that day, Sophia!
As I trekked through the woods and fields back to my car, well-dressed men and women walked towards the house that was yours for five months, Sophia. They proceeded to a reception tent next to your house.
I watched the bride and her azure-clad bridesmaids model for their photos on the edge of these woods where you lay, Sophia.
I went looking for a dead bride that day. I found a living bride instead.