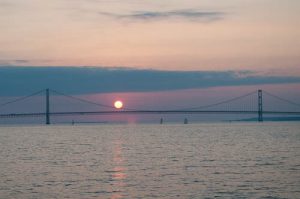 The Mackinac Bridge in Michigan crosses the Straits of Mackinac and joins Michigan's Upper Peninsula to its Lower Peninsula. The water west of the bridge belongs to Lake Michigan and the water east of the bridge belongs to Lake Huron.
St. Ignace sits at the southern tip of Michigan's Upper Peninsula (the UP), next to the northern end of the Mackinac Bridge.
My father-in-law Dennis Woytek worked at a radio station in St. Ignace, Michigan for the first three years after he married my mother-in-law Fran in the early 70's.
One time, Dennis and Fran explored rural Northern Michigan in their car. They ended up lost on a dirt road in the woods. They discovered a marker dedicated to "two lovers" who got lost out in that same wilderness and perished. Dennis and Fran drove some more and sighted a lighthouse in the distance. They followed the dirt road to the lighthouse. They found a paved road at the lighthouse, and were able to find their way back to a highway.
Dennis eventually took a radio job back home in Western Pennsylvania. Dennis and Fran brought their kids to vacation on the UP about a decade later.
After Fran and Dennis' son, Jonathan, and I got engaged, Fran invited me to vacation in the UP with them. I too fell in love with the UP. I vacationed with the Woytek family on the UP almost every year for over a decade.
So, please enjoy this upcoming series on my blog about the people, places, and folklore of Michigan.
I will post stories and photos of Mackinac Island, of course. However, I will also bring to you my experiences with rural cemeteries, Native American grounds, tall ships, remote beaches, freighters, and more.