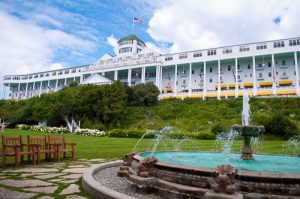 The Grand Hotel on Mackinac Island charges non-guests $10 to enter its grounds. The Grand even put this on a sign in their driveway.
The fee keeps us – the unwashed looky-loos – from bothering the Grand's paying guests. I watched a family with multiple noisy kids attempt to walk up the Grand's driveway. A Grand employee advised said family of the $10 per-person fee. The family turned away. Mission accomplished.
One day I paid the $10 fee. Then I walked around and took photos. Here are some of the things that I saw:
1.) The Cupola Bar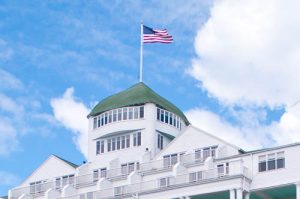 Do you see the cupola in the first two Grand Hotel photos that I posted? This is a two-story bar. The Cupola Bar.
Here is what the Cupola Bar looks like from inside on the second floor: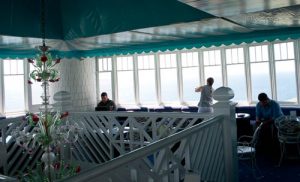 But here's what you REALLY wanted to see. Here's the view from the second floor windows of the Cupola Bar: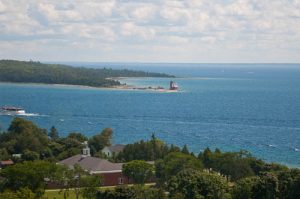 2.) The Front Porch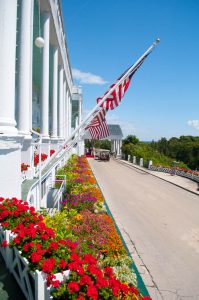 I needed a rest after my trip to the top of the cupola. So, I enjoyed the (660 ft long) front porch.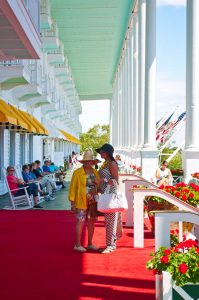 I viewed the Mackinac Bridge and horse-drawn carriages from the starboard end of the porch: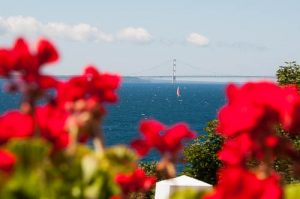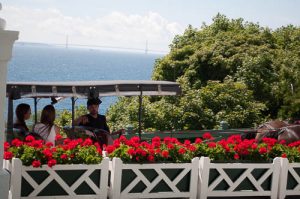 Here's the giant chess set that I saw on the port end of the porch: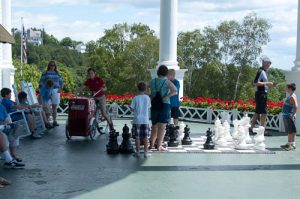 Do you see the young lady pedaling the red Coca-Cola cart? She pedaled (AND peddled) that cart up and down the length of the porch, selling ice cold coke in glass bottles. I think that she also rang a little bell as she passed us.
3.) The Greenhouse
The Grand Hotel loves its red geraniums. I found the greenhouse.