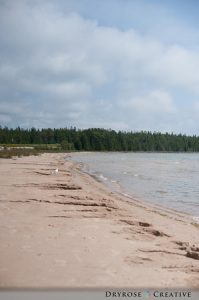 I promised to blog about remote beaches. So, I present the beaches of DeTour.
You must drive about 60 miles north of St. Ignace and the Mackinac Bridge or about 60 miles south of Sault Ste. Marie to reach DeTour Village. It sits on M-134.
As I mentioned in my last post, boats that travel between Lake Superior and Lake Huron (and the rest of the Great Lakes) traverse the St. Marys River.
The St. Marys River bends as it meets Lake Huron. This forms the DeTour Passage.
DeTour Village is its own peninsula because the St. Marys River, the DeTour Passage, and Lake Huron surround it on three sides. At the same time, it sits on the most eastern tip of Michigan's Upper Peninsula.  Drummond Island sits directly across the DeTour Passage from DeTour Village.
Here are five reasons that you should detour to Detour:
1.) Boat Watching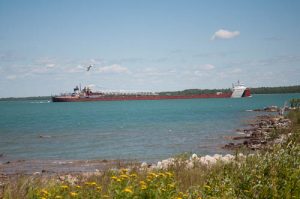 We discovered the charms of Detour Village by accident during a freighter watching trip. See my last blog post.
2.) Butterflies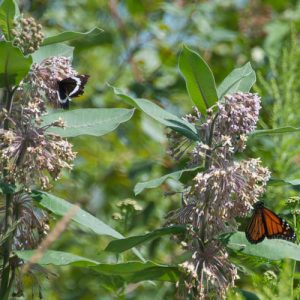 When I first blogged about the public marina on the outskirts of DeTour Village, I didn't mention all of the butterflies that I saw at the marina.
3.) Shipwrecks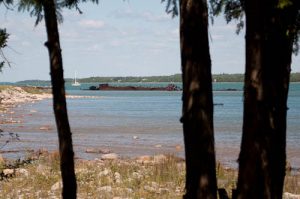 The DeTour Passage lures scuba divers because so many boats wrecked here.
If you don't scuba dive, you can still see shipwreck remains from land. You just need to take a short walk on the trail at the Detour Botanical Gardens. (This is free.)
4.) DeTour Reef Light (A Lighthouse)
A shoal, DeTour Reef, sits in the water at the southern entrance of DeTour Passage. The U.S. Army Corps of Engineers built the DeTour Reef Light on top of this reef.
You will need a boat in order to access this lighthouse.
I took the above photo of this lighthouse with a telephoto lens, from a beach that is no longer accessible to the public.
However, you will be able to see this lighthouse off in the distance when you ride down the highway towards DeTour Village.
5.) DeTour Peninsula Nature Preserve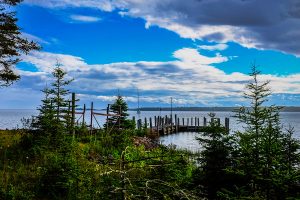 Jonathan and I "hiked" down a dirt road, through this preserve. At the very end of this road, we reached the tip of the DeTour Peninsula. I stood on the beach and took the lighthouse photo that I posted above.
We returned a few years later to "hike" the preserve again. At this visit, we discovered that the property at the very tip of the peninsula – and the beach there – was closed to the public. We still enjoyed the gorgeous preserve.
This nature preserve is open to the public for no admission or membership fee.