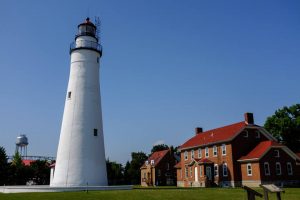 When we drove home to Pennsylvania from Michigan's Upper Peninsula this summer, we spent one night in Port Huron, Michigan.
Port Huron sits where Lake Huron meets the St. Clair River.  Port Huron belongs to St. Clair County.  The St. Clair River flows into Lake St. Clair.
One theory claims that settlers named the river, the lake, and the county after General Arthur St. Clair from Scotland and Pennsylvania. Here are some fun facts about General St. Clair:
1.) He settled in Ligioner, Pennsylvania in the 1760's. He faced a court-martial for giving up Fort Ticonderoga to the British in 1777. He was exonerated.
2.) After the Revolutionary War, he served as the first Governor of the Northwest Territory. This territory included present-day Michigan.
3.) In 1791, a Native American force (which included Pennsylvania native Simon Girty) ambushed St. Clair at the Battle of the Wabash. The ambush resulted in the greatest defeat of a U.S. Army by Native Americans in history. Once again, St. Clair was exonerated.
4.) The United States failed to repay a substantial debt owed to St. Clair.
5.) He died in Greensburg, Pennsylvania. He is now buried in Greensburg's St. Clair Park. Today, St. Clair Park regularly hosts "SummerSounds – Concerts in the Park."
6.) Lore says that General St. Clair's ghost and his wife's ghost haunt the museum at Fort Ligioner. (Ligioner and Greensburg are about 20 miles apart if you take Route 30.) My fourth grade class visited Fort Ligioner several decades ago. I didn't see any ghosts.
7.) From what I read about General St. Clair, his supporters argue that St. Clair didn't have adequate resources to succeed at Fort Ticonderoga or at the Wabash.
Anyway, back to Port Huron:
We spent one night at the Hilton in downtown Port Huron, to the left of the Blue Water Bridge that crosses the St. Clair River to Canada. The Fort Gratiot Lighthouse sits to the right of the bridge. These mark the confluence of Lake Huron and the St. Clair River.
Jonathan specifically chose this hotel so that we could watch river traffic (specifically, freighters) travel under the Blue Water Bridge.
Directly across the highway from the Hilton, we accessed the Blue Water River Walk along the St. Clair River. We saw the lights of – gasp – a CANADIAN casino directly across the river.
About a dozen people – men, women, and children – sat on the river walk to fish. Bicyclists with lights on their handlebars rode past us. The bugs bit on our shins even after we coated ourselves with repellant.
Jonathan took this photo of a barge traveling under the Blue Water Bridge: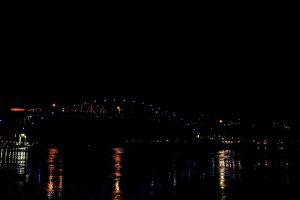 The next morning, we ate brunch at the Hilton's restaurant, named Freighters. Freighters' dining room includes picture windows that face the river.
We saw more boats.
We also saw a statue of Thomas Edison. We wondered why. I did some research and learned that Thomas Edison grew up in Port Huron. Edison publicly demonstrated his phonograph for the first time on the porch of the Grand Hotel on Mackinac Island.
We checked out from Freighters Restaurant and from the Hilton, then drove to the Fort Gratiot Lighthouse. Jonathan took the photo at the top of this blog post.
We drove back to Pennsylvania that day. However, we look forward to our next trip to downtown Port Huron.
What places excite you about visiting?
With this post, I wrap up my series about Michigan.
I look forward to bringing you many more stories of Pennsylvania and its people, history, and lore.
Do you want to read more ghost stories here? See more gravesite posts? Do you have any other ideas of things that I should blog about here? If you do, drop me a comment here or on my Facebook page.