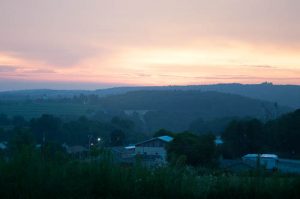 I grew up in the sticks of Somerset County. (I grew up in Berlin, Pennsylvania, the potato chip capital of Western Pennsylvania.)
When I was a kid, I got so excited whenever the outside world paid the slightest bit of attention to our little corner of the world. I still do.
That's why I want to mention a novel that came out last month: Root of All Evil (A Laurel Highlands Mystery Book 1) by Liz Milliron.
The Laurel Highlands includes these counties: Cambria, Fayette, Somerset, and Westmoreland. Mountains and small towns cover the region. "Laurel Highlands" serves its purpose as a marketing term; however, in my opinion, Bedford County should also be included. (That's another post for another day.)
Root of All Evil has two (fictional, of course) protagonists: Pennsylvania State Trooper Jim Duncan, and his love interest, assistant public defender Sally Castle. Milliron published several short Laurel Highlands Mysteries about these two characters before Level Best Books published Root of All Evil. All of these Laurel Highlands Mysteries belong to the "police procedural" sub-genre of crime fiction.
At the beginning of this story, Duncan and Castle run into each other during Friday afternoon happy hour at a Uniontown bar. Castle is there with her colleague, Colin Rafferty. Castle and Duncan chat with each other, and Castle sees her co-worker Colin arguing with an unknown person.
A few days later, after a Pittsburgh Steelers game, co-worker Colin ends up dead in the Fayette County Courthouse. Meanwhile, Duncan receives a hot tip about a new Fayette County meth lab.
Castle and Duncan flirt with each other while they try to find Colin's killer and also shut down the meth operation. (We also learn that Duncan lives in Confluence, Somerset County.)
I don't know the author personally. However, she is a past officer of the Pittsburgh chapter of Sisters in Crime, a writing organization that I just joined. I learned about the Laurel Highlands Mysteries during a chapter event. Since I actually lived in the Laurel Highlands and she didn't (from what I understand), I was really curious about her perspective of the area. So, I attended her book release party in Oakmont last month. I read half the book that same afternoon.
I respect that Milliron acknowledged a few serious problems in this region (the drug trade and limited economic opportunities) without portraying all Laurel Highlanders with tired "hillbilly" or "deplorables" stereotypes. Root of All Evil entertained me and kept me in suspense until the end. I intend to read the next book in this series.