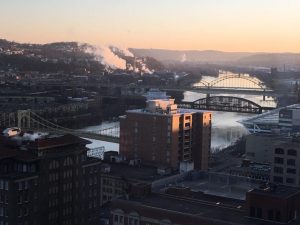 Last Christmas, my husband Jonathan gave me a copy of the fiction novel "Little Fires Everywhere" by Celeste Ng. Amazon told Jonathan that I would like this book, based on other books that he purchased for me.
The author, Celeste Ng, was born in 1980, according to Wikipedia. So she is around my age. The book jacket advised me that she grew up in Pittsburgh and also in Shaker Heights, Ohio.
The bulk of this novel takes place in Shaker Heights in 1996-1997. Most of the main characters are teenagers, which means that they were all born in the late 1970's or early 1980's. In fact, the book even reveals that one of the main characters, Pearl, was born in 1982. (I'm not sure that Pearl qualifies as the protagonist, but she has a prominent role in this story.)
So, many of the main characters are from the same generation as the author and myself.
I had never heard of Shaker Heights until I read this book. (According to Google Maps, my hometown in Somerset County, PA is 194 miles away from Shaker Heights.)
I learned from this book and also from this McSweeney's satire article that Shaker Heights is a prestigious suburb of Cleveland.
In the very first chapter (first sentence, really) of this book, a teenager named Izzy Richardson burns down her well-heeled parents' upscale house in Shaker Heights. This takes place in May 1997.
The rest of the book recounts the past chain of events that causes Izzy to torch her family home. As I said earlier, most of the action happens in 1996-1997.
However, partially through the book (Chapters 13 and 14), one of the characters, Mia (Pearl's mom), has a flashback to her own family life in Pittsburgh during the years 1979 – 1982.
In Chapters 13 and 14, fictional Mia's family in Pittsburgh express attitudes consistent with those that some of my real-life extended family (who all lived in Pittsburgh during this same time period) displayed to me and my parents and siblings.
I am under the impression that Little Fires Everywhere wasn't really publicized as a Pittsburgh novel. However, the events that happen in Pittsburgh in Chapters 13 and 14 really impact the rest of this story. If anybody out there with Pittsburgh roots has also read Little Fires Everywhere, I would love to hear your thoughts about Chapters 13 and 14. Please respond in the comments!