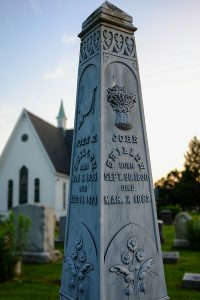 Last week, my husband Jonathan and I learned about the history of Brackenridge and Tarentum during Prospect Cemetery's ghost walking tour.
This tour raised funds for Prospect Cemetery's upkeep.
Some of the volunteers involved with the cemetery tour have also in past years performed ghost walking tours of downtown Tarentum.
In these tours, guides lead their groups to actors dressed up as local historical figures. The actors tell stories about their assigned figures.
Jonathan agreed to attend past tours of Prospect Cemetery and Tarentum with me because the tour organizers indicated in media posts that these tours weren't the type of events where people jump out of the darkness to scare guests. (Jonathan refuses to attend scary ghost events.) Nonetheless, we heard true tales of murders, fires, accidents, and illness.
New Kensington could host its own haunted history walk. I didn't grow up in New Ken (and neither side of my own family ever lived here), so I don't know many of the old yarns. However, I compiled my own list of historical figures and events based on my knowledge of Western PA history. I welcome anybody with intimate knowledge of New Kensington history to supplement this list. In fact, if you have anything to add, please feel free to tell me in the comments!
Robert E. Lee . . . Just kidding! I don't have any reason to think that Lee ever came to New Kensington.
Simon Girty  –  Girty  went just about everywhere in Western and Central Pennsylvania. Also, in olden days, Girty's name was arguably more controversial than Lee's. (Spoiler: Girty defected from the Americans and fought with the other side.)
Girty was born in Central PA in 1741. During his violent childhood, Seneca warriors raided the Girty family farm and took him prisoner.
Girty grew up learning the Iroquois, Delaware, and Shawnee languages. He lived with (and fought alongside) the Senecas during several battles of the French and Indian War. The Native Americans returned Girty to the British colonists during a prisoner exchange in 1764.
Girty worked as a trader and interpreter. He frequented Pittsburgh and travelled these rivers, including the Allegheny River.  Girty originally served with the American forces during the Revolutionary War. However, he changed his mind after colonial settlers attacked a Native American settlement. (The settlers killed the women found in this settlement.)
Girty defected to the British in 1778.
Girty was present at the execution of American Colonel William Crawford in 1782 and sources allege that he actually egged on the Native Americans who tortured Crawford.
(See my blog post The Brutal Tale of Colonel William Crawford.)
Girty eventually fled to Canada, where he died in 1818. Some sources list Girty as a Canadian.
I believe that Girty travelled the Allegheny River past present-day Parnassus and downtown New Kensington.
My own grandma in North Huntingdon Township often joked about mischief caused by the Ghost of Simon Girty.
Soldiers of Fort Crawford in Parnassus  – Settlers built Fort Crawford next to the confluence of Pucketa Creek and the Allegheny River in the 1700's. The remains of Fort Crawford later became the Parnassus neighborhood of New Kensington. A stone marking the fort, and also remembering Colonel William Crawford, now sits next to the grounds of the Presbyterian church and cemetery there. For a history walk, actors could dress up as soldiers and tell the fort's story.
We could even have an actor dress up as Colonel William  Crawford. In 1782, at the end of the American Revolution, Crawford led American forces into Ohio as part of the Crawford Expedition against Native Americans. Lenape and Wyandot warriors defeated Crawford and his men. They tortured and executed Crawford. Simon Girty was there.
The Frank Alter Family – Frant Alter Sr. was one of the founders of the Keystone Dairy Company in Parnassus. Alter and his family originally owned my present-day house in Parnassus. In fact, an Alter child carved his initials into the woodwork in my attic. The Alter family are now buried in the cemetery owned by Parnassus Presbyterian Church. Here is some research that Jonathan did on the Alter Family.
Johnstown Flood Debris –  We residents of New Kensington live alongside the Allegheny River, downstream from Johnstown. After the Johnstown Flood of May 31, 1889 killed at least 2,209 people, flood debris (and bodies) washed downstream. It washed past our current home and also past all of the other Allegheny River towns downstream from us.  In fact, David McCullough noted in The Johnstown Flood that rescuers pulled a living baby out of the river at Verona.  This happy-ending story is perfect for a history walk.
Here are some more ideas that I blogged about in 2014:
Rene-Robert Cavelier, Sieur de La Salle
The Logan Family 
(See my blog post Meeting Aaron Burr in the Alleghenies.)
Victorian Houses in Parnassus
If you have more stories, feel free to add them to this list. I didn't grow up here. I would love the insights of those who did.