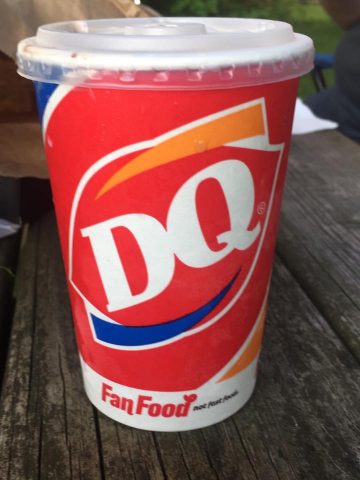 I graduated from Saint Vincent College (SVC) in Latrobe, PA.
Boniface Wimmer, a Benedictine monk from Bavaria, founded Saint Vincent College and Saint Vincent Monastery.
A two-story statue of Boniface Wimmer sits in front of the Saint Vincent Basilica. The college and the monastery flank the basilica and thus the statue.
If you stand at the base of the Boniface Wimmer statue and look in the direction in which the statue points, it looks as if Boniface Wimmer points at the Latrobe Dairy Queen.
So, yeah, we all joked about how Boniface Wimmer stood in front of Saint Vincent and pointed at Dairy Queen.
Neither I nor my husband photographed the Wimmer statue or anything else on the Saint Vincent campus. (Yet.) I am not going to steal somebody else's online Saint Vincent photo. Instead, I posted above a photo of a Dairy Queen Blizzard.
Wimmer passed away on December 8, 1887. Thus, the Saint Vincent community celebrated December 8 as a holiday. A holiday titled "Founder's Day."
Now, I don't know which leader ultimately made this decision, but at some point after I graduated, the institution moved Founder's Day to a date in October. Honestly, to me, Founder's Day is not actually Founder's Day unless it happens in December.
(Today is December 7. December 6 was St. Nicholas Day, and today is the anniversary of Pearl Harbor. However, right this moment I am nostalgic for the old Saint Vincent Founder's Day celebrations on December 8.)
I don't remember every Founder's Day event that I attended through the years at SVC. I remember the evening Founder's Day fireworks displays.
Here's the thing about Wimmer: He didn't found Saint Vincent Monastery and College in Latrobe as his "only" accomplishment. Saint Vincent was the FIRST Benedictine monastery founded in the United States. However, Wimmer's efforts led to the founding of several more Benedictine monasteries and colleges. So, Wimmer's name comes up in other institution's origin stories.
Now, the Saint Vincent community has its very own cemetery behind the monastery and the college. This cemetery includes Wimmer's grave. I walked past this grave many, many times during my years as a student. I don't have any photos because I didn't own a decent camera then.
According to a campus legend, each year on the anniversary of his death, Wimmer's ghost walks from his grave to the Saint Vincent Basilica. I know of people who actually camped out next to Wimmer's grave on the night of December 8 in hopes of seeing the ghost.
To be honest, I lived in the dorm that was in the "ghost path" between Wimmer's grave and the basilica. (This dorm is named Wimmer Hall!) So, if Wimmer's ghost actually performed, I could have seen or heard something from the warmth of my dorm room. I never saw or heard this ghost.
Did you ever see any ghosts at Saint Vincent College? If so, drop me a line!