This is Part 2 of my series on the "Secrets of the Mon." You can read Part 1, Taj Mahal on the Mon, here.
In Part 1, I blogged about Nemacolin Castle, a mansion overlooking the Monongahela River (the Mon) in Brownsville, Pennsylvania.
Today I blog about another home on a hill above the Mon. At this new estate, I saw all of these: a Jefferson cabinet member's "cursed" home, the rumored grave of this man's dead bride, a live bride preparing for her own wedding, and Robert E. Lee's confiscated furniture.
Today I blog about Friendship Hill National Historic Site in Point Marion, PA. Today I blog about the country estate of Albert Gallatin.
By now, you've all heard of the United States Secretary of the Treasury, right? President Trump appointee Steven T. Mnuchin (Net Worth: $300 million) serves as our current Secretary of the Treasury. The idolized and fabled Alexander Hamilton served as our first Secretary of the Treasury. Hamilton rival Albert Gallatin served as our fourth Secretary of the Treasury.
Gallatin was born into a wealthy family in Geneva, Switzerland. He emigrated to the Unisted States in 1780's.
So, just like Hamilton, Gallatin was an immigrant. Just like another Secretary of the Treasury, Gallatin was born into wealth and privilege.
Since Gallatin had money, he got to chose where to live. He first tried to live in New England. He then moved to Virginia.
Finally, Gallatin settled on a rural estate in Southwestern Pennsylvania. He settled above the Mon. He settled on the property that became Friendship Hill.
The Mon flows south to north. Downstream from Friendship Hill, the Mon joins the Allegheny River at Pittsburgh to form the Ohio River. The Ohio River then flows into the Mississippi River.
Now, as I blogged here, tremendous earthen mounds dotted the banks of the Mon, Ohio, and Mississippi Rivers.
From where did these come? If humans built these, then who?
Archeologists maintain that indigenous people built these hundreds or even thousands of years ago. But how?
One theory claims that humans significantly larger than ourselves – those known in lore as the "Tall People" – built these mounds.
Some storytellers insist that aliens from outer space built the mounds.
What is the truth behind these mounds?
Did these mounds bring special energy – special power – to the banks of the Mon?
Did the Mon's special power call Albert Gallatin to build his home along the Mon?
Gallatin purchased the 400 acres of land in present-day Fayette County, Pennsylvania, that we now call Friendship Hill.
Since Gallatin pursued a political career, he still lived at times in Richmond, Virginia.
By 1789, Gallatin proclaimed his love for Sophia Allegre, the daughter of a Richmond boardinghouse owner. Gallatin wanted to marry Sophia and take her back with him to Friendship Hill.
Now, keep in mind that this happened less than a decade after the American Revolution ended. Friendship Hill still belonged to the wilderness, the unknown. Friendship Hill sits on the edge of the Appalachian Mountains. White settlers battled the Iroquois Confederacy for this land. Illness and violence threatened all. In 1789, Virginia and Pennsylvania still recovered from years of war and sacrifice.
Whatever the reason, Sophia's widowed mother opposed the match.
And for her own reasons, Sophia eloped with Albert Gallatin in May 1789.
Albert and Sophia Gallatin set off to build a life together at Friendship Hill.
Five months later, Sophia Gallatin died at Friendship Hill.
How did Sophia die? Pregnancy complications? Illness? Rumors even hint that Sophia Gallatin suffered a violent death in the woods.
In any case, Albert Gallatin buried his Sophia in an unmarked grave overlooking the Mon.
Gallatin left Friendship Hill and carried on with his long diplomatic and political career. He represented Pennsylvania as a United States Senator. He served as 4thUnited States Secretary of the Treasury under Thomas Jefferson and James Madison, from 1801-1814. In this position, he purchased the Louisiana Territory and funded the Lewis and Clark expedition.
Gallatin remarried. His new wife insisted that the couple not live at Friendship Hill. Did the new Mrs. Gallatin fear Friendship Hill's remoteness? Did she know dark secrets about her husband's home on the Mon? Whatever the reason, Gallatin agreed to give up living in southwestern Pennsylvania. He sold Friendship Hill.

Future owners lived in and expanded the original structure where Albert and Sophia Gallatin lived.
The story claims that workers discovered Sophie's original grave as they constructed a cistern and pump house. They moved her body to another location on the property.
Friendship Hill changed owners several times. Homeowners suffered misfortune and tragedy. Local folklore blamed the tragedies on a curse.
Then the ghost stories bloomed.
The National Park Service (NPS) acquired Friendship Hill in the 1970's. Later, volunteers claimed to hear footsteps in restricted places. Rumors told of a young woman's ghost who peered through windows.
The NPS placed signage at the location that they believe to be Sophia Gallatin's "new" grave. Is this truly her grave?
See more here on Sophia Gallatin's grave.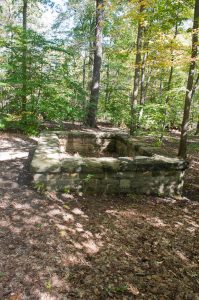 I visited Friendship Hill National Historic Site a few years ago.
According to the NPS website for Friendship Hill, the park includes 661 acres and over 10 miles of nature trails.

I saw no food concessions or any vending machines that sold food or drink during my visit to the park. I didn't pack enough of either of these. I had to leave after a few hours to find a grocery store. I had to drive about three miles to the actual town of Point Marion.
I did locate a clean and comfortable restroom with indoor plumbing.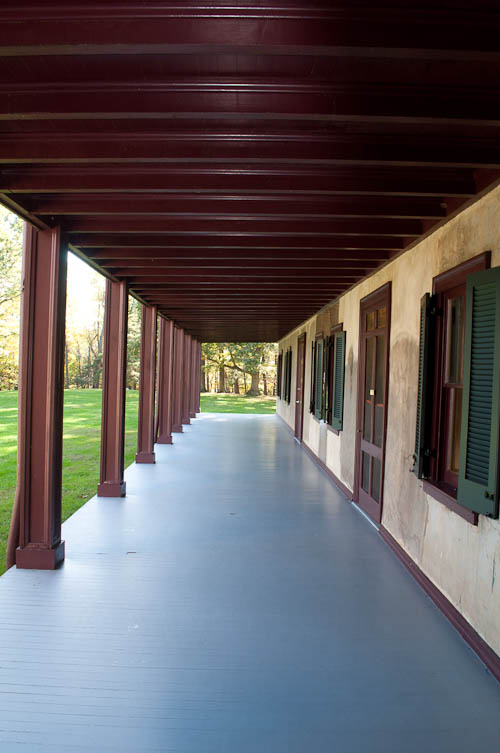 I planned my visit during the operating hours for the original stone house where Albert and Sophia Gallatin lived. I paid no admission fee to tour the house. The park staff member at the front desk gave me a map so that I could do a self-guided tour of the main house. He allowed me to bring my camera inside and take photos.
Friendship Hill includes no original furniture that belonged to Gallatin.
Now, during my visit, the rooms of Gallatin's Friendship Hill contained Robert E. Lee's family's furniture. Here's why: the NPS also operates Arlington House in Virginia. Robert E. Lee's wife, Mary, (Martha Washington's great-granddaughter) inherited Arlington House. (The United States confiscated Arlington House during the Civil War.) At the time of my visit to Friendship Hill, the NPS was renovating Arlington House. So, the NPS moved the Arlington House furniture to Friendship Hill temporarily.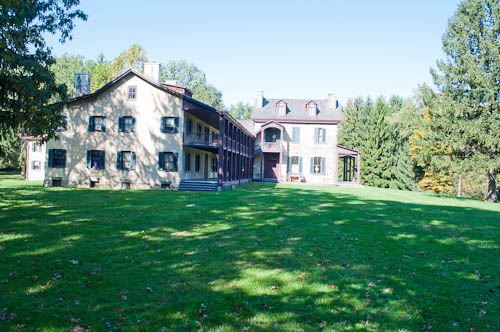 When I walked from the main house to the parking lot, I saw an event tent. Well-dressed people walked from the parking lot to the event tent.
I drove past a (living) bride and her azure-clad bridesmaids. They modeled for their photos on the edge of the woods where Sophia Gallatin rested.
I went looking for a dead bride that day. I found a living bride instead.