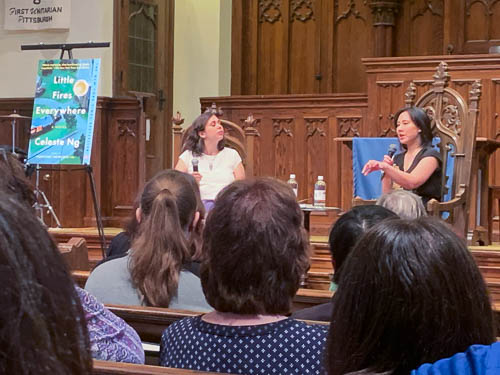 I saw Celeste Ng speak at First Unitarian Church of Pittsburgh last Friday. Ng promoted the paperback release of her novel Little Fires Everywhere.
I estimate that several hundred people attended. Good thing that White Whale Bookstore held this inside a healthy-sized venue!
I read Little Fires Everywhere last year after my husband Jonathan gave a hardcover copy to me for Christmas. Amazon told Jonathan that I would like this book.
Wikipedia taught me that Ng was born in Pittsburgh in 1980 to Chinese-American parents. Ng grew up in Pittsburgh and in the affluent Cleveland suburb of Shaker Heights, Ohio.
(Ng belongs to my generation. So do most of Little Fires Everywhere's main characters.)
Little Fires Everywhere took place mostly in Shaker Heights during 1996-1997. However, Chapters 13 and 14 consisted of a flashback to Pittsburgh during the years 1979 – 1982.
I grew up in rural western Pennsylvania, about 200 miles east of Shaker Heights. However, I never heard of Shaker Heights until I read this novel.
I learned very early in the story that the people of Shaker Heights thought pretty highly of themselves and their community. I googled "Shaker Heights" and learned from this satire article that McSweeney's liberal elite also held Shaker Heights residents above us other middle-class suckers.
I read the first part of this novel with a chip on my shoulder. I was a teenage country bumpkin in the 1990's. I longed to reside in an upscale suburb near a major or even a minor city.
So, I resented this author's privilege for growing up in Shaker Heights.
However, I finished Little Fires Everywhere and realized that my own resentment summed up about 75% of the plot!
Here's what happened in the book: an "artist / food service worker / housekeeper / single mother" raised in a no-nonsense working-class Pittsburgh family moved to Shaker Heights with her teenage daughter. They rented an apartment from an established Shaker Heights family. They discovered the class division separating themselves from the Shaker Heights family.
Here's some other stuff that happened: In the very first chapter (first sentence, really) of this book, a teenager named Izzy Richardson burned down her well-heeled parents' upscale house in Shaker Heights. This first chapter took place in May 1997. The rest of the book recounted the chain of events (mostly in 1996 – 1997) that caused Izzy to torch her family home.
The novel also described a fictional custody battle between a Chinese-American birth mother and a rich white couple.
Most of the white adults and white teenagers in Little Fires Everywhere presented themselves as jerks who thought of themselves as "good people." I originally begrudged Ng for this. (To be clear, I changed my mind about this.)
In addition, the author initially "offended" me when she portrayed the characters in Pittsburgh as rotten human beings.
When I first learned that Ng was coming to Pittsburgh for her paperback tour, I thought, "If you think that you are so much better than us "Pittsburghers," then why are you even traveling here to Pittsburgh for your book tour?" (Again, to be clear, I changed my mind about this.)
I'm not technically a Pittsburgher. However, my mom was born and raised inside the city limits. (Mom grew up in Carrick.) My grandpa retired as a Pittsburgh policeman. I work downtown here. It grated me that this elite, privileged Shaker Heights / Ivy League / New England woman ripped on an uneducated, working-class (white) Pittsburgh family in her novel. Even though the fictional Pittsburgh family resembled my own family's background here. Even though Ng's description of Pittsburgh in the late 70's / early 80's wasn't incorrect.
(Yeah, I know that my own response helps to explain why a certain populist politician won a certain election. I'm being honest with myself, not proud of myself.)
Why did I attend the book talk after the book touched several of my sore spots? Well, Ng is a nationally-acclaimed author. I wanted to learn about her experiences writing a book that I read.
Also, I wanted to hear what Ng had to say about Pittsburgh to her Pittsburgh audience – AFTER she wrote about Pittsburghers so unfavorably in Little Fires Everywhere.
To my disappointment, when the moderator asked Ng about her memories of Pittsburgh, Ng spoke about her visits to the dinosaur exhibit at the Carnegie Museum. How diplomatic.
Ng did mention her anxiety about her earlier author visit to Shaker Heights after Little Fires Everywhere's hardcover release. After all, the fictional residents of Shaker Heights also presented as awful people. Ng noted that the attendees at her Shaker Heights visit didn't argue with her portrayal of Shaker Heights.
I'm glad that I read Little Fires Everywhere and I'm glad that I had the privilege of watching Ng speak last week.