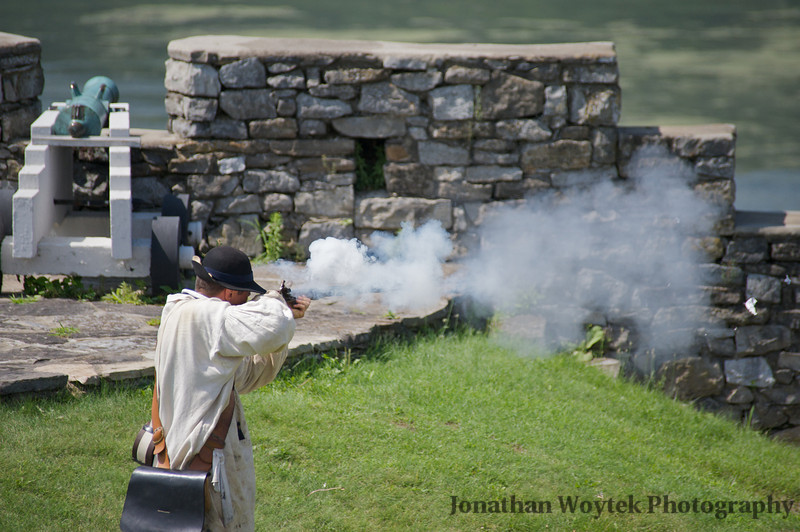 This blog post is about paranormal historical romance fiction and also about "regular" historical fiction.
So, if that's not your thing, here's a post that you might enjoy more: They "Bought" A Dead Body: My Visit to Jim Thorpe, PA.
I attended a few author visits and book launches at local bookstores. At such visits, the author talks a little bit about his or her new book and usually takes questions from the audience. The audience has the opportunity to purchase the book and to have the author sign it.
I show up at these things to learn about other people's writing processes.
Anyway, last week I attended Laurel Houck's local book launch for "The Girl with Chameleon Eyes." This Y.A. (Young Adult) novel also qualifies as teen romance, paranormal, and historical fiction. Laurel Houck lives in the Pittsburgh area.
I say "historical fiction" because the plot included this event: In July 1782, at the end of the American Revolution, the British (some websites claim "Canadians") and their Seneca allies under Guyasuta attacked and burned down Hannastown (also called Hanna's Town), Pennsylvania.
See, Greensburg is now the county seat of Westmoreland County, PA. However, the county seat actually "sat" in Hannastown in 1782. Hannastown was the first county seat west of the Alleghenies (the Allegheny Mountains). Westmoreland Countians attended to court business as the attack started. Many settlers from surrounding farms took refuge inside Hannastown's fort as their farms, crops, and town burned.
Peggy Shaw got shot as she chased after a runaway toddler during the attack. Poor Peggy went onto the historical record as the attack's only fatality.
Today, we can all visit Historic Hanna's Town on the site of the Hannastown that the British, Guyasuta, and their allies burned. The Westmoreland County Historical Society now runs an archeological site there. They maintain several colonial homes and a museum at the site. In the summer, a festival re-enacts the attack on "Hanna's Town."
"The Girl with Chameleon Eyes" introduced me to a supernatural teen named Summer who manifested herself behind a Sheetz convenience store. Summer soon found herself enrolled in a high school history class that took a trip to Historic Hanna's Town. Then, Summer had a flashback to her own experience at Hannastown in 1782.
So, "The Girl with Chameleon Eyes" is the first paranormal novel that I read about Hannastown.
Here are two non-paranormal historical fiction stories about Hannastown:
1.) Hannah's Town, by Helen Smith and George Swetnam, copyright 1973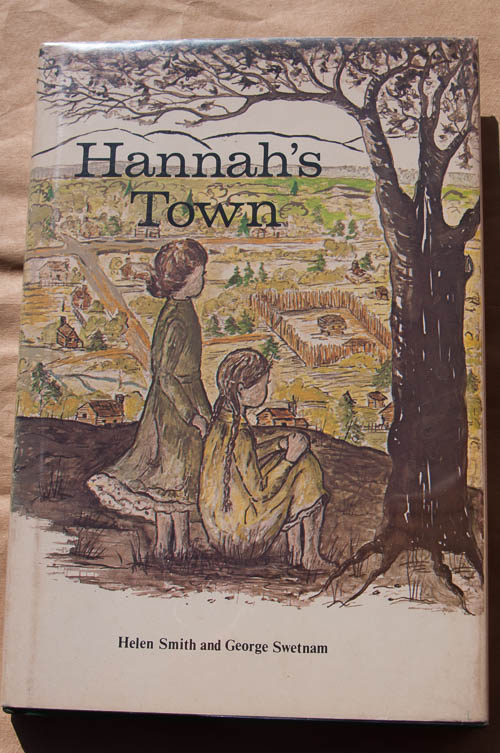 I bought this book used from the Caliban Book Shop in Pittsburgh.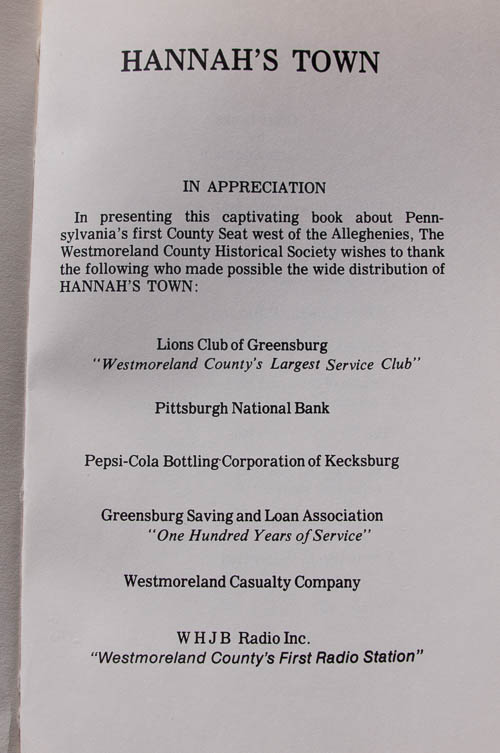 This book introduced me to a fictional little girl named Hannah who lived in Colonial Hanna's Town, and considered it to be "her" town.
Spoiler: Hannah and her family conveniently moved away from Hanna's Town about a year or so before the British and Guyasuta attacked it. This book was written for young readers. It didn't include any violence or terror. The book merely described how Hannah and her family built their house, established their farm, completed their chores, etc. In fact, this book reminded me of Laura Ingall's Wilder's "Little House in the Big Woods" and "Little House on the Prairie."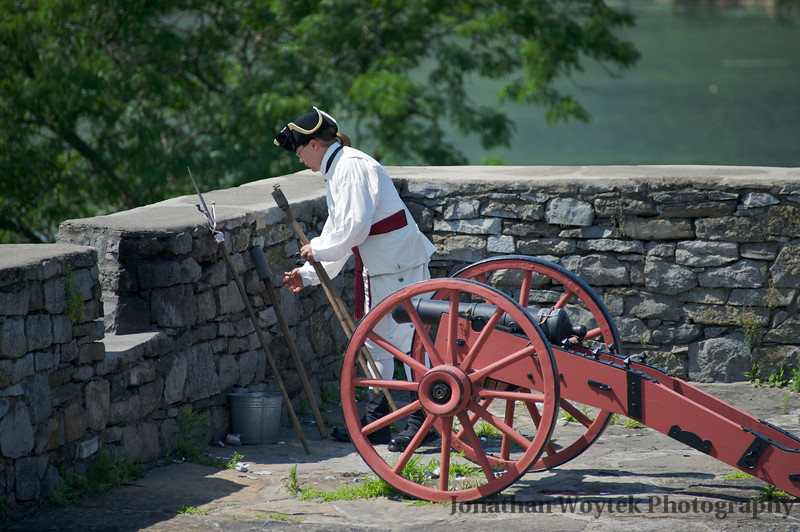 2.) "The Day Must Dawn" by Agnes Sligh Turnbull, copyright 1942.
Turnbull dedicated "The Day Must Dawn" "To the residents of Westmoreland County." At the beginning of it, she wrote: "When I was a small girl, driving with my parents from the village of New Alexandria in Western Pennsylvania to Greensburg, the county seat, I always used to beg them to stop the horse at one spot in the road and tell me again about Hannastown-that-was-burned-by-the-Indians."
Turnbull was born and raised (and is now buried) in New Alexandria, which is about five miles from the site of old Hannastown.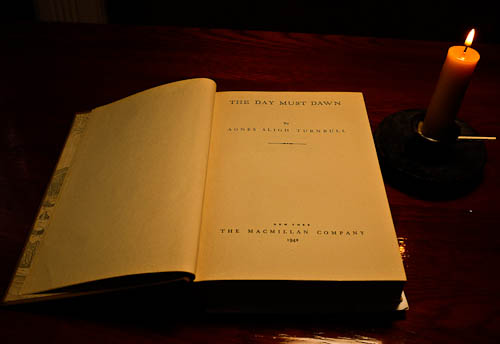 In "The Day Must Dawn," one of the (fictional) main characters watched (the real life) Colonel William Crawford burn at the stake while Simon Girty laughed. This character later returned to his family in Hannastown and then watched his own home and town burn. This novel described the aftermath of several other violent deaths in the years leading up to the burning of Hannastown.
In "The Day Must Dawn," the town lost a significant portion of its able-bodied fighting men in the Crawford Expedition during the American Revolution. (William Crawford, the leader of the expedition, previously founded Fort Crawford in Parnassus, New Kensington.) The Native Americans and British attacked and burned Hannastown less than a year later.
"The Day Must Dawn" is actually a romance about Scotch-Irish Presbyterians named Hugh and Violet.
See, before the novel opened, white settlers moved onto Native American lands along the Susquehanna River in Central Pennsylvania. The Native Americans retaliated with violent attacks on these settlements. All of Violet's siblings and also Hugh's parents died in these attacks. Violet's parents informally "adopted" Hugh.
So, at the beginning of "The Day Must Dawn," Hugh and Violet called each other "sister" and "brother" and they considered each other as siblings. Then they fell in love with each other.
Hugh decided that he must join a colonial militia and prove his manhood. He planned to ask Violet's parents (his own foster parents) for permission to marry Violet. In the meantime, Violet's mother planned to marry Violet (her only living biological child) off to a lawyer who will take her to an easier life in Philadelphia. (Or what passed for easier in that era. One tenth of the population of Philadelphia perished during the Yellow Fever Epidemic of 1793.)
In 1782, Pennsylvania was the frontier, and life was cruel and primitive. Parents were admonished by neighbors not to grow too fond of their children, lest they tempt fate. Several children died in this novel. Violet's father mocked Violet and her mother for bathing in the winter. He bragged about the long period of time since his last bath. (I suspect that this may be one reason why the spark apparently died in the marriage of Violet's parents.) Violet learned that her mother ate off of plates decorated with flowers during her own childhood in Philadelphia. Violet told her mother that she would die happy if she herself could eat off of such a plate just once. The family's prized possessions were three books (a Bible and two volumes of Shakespeare) and a mirror.
The author described a folklore treatment actually used by the Pennsylvania German – or, as the book refers to them, the Pennsylvania "Dutch." Here's what happened:
A rattlesnake bit Viola (on page 237) as she worked on farming chores. Viola's mother treated the wound with contemporary medicine. (Chestnut bark poultice. Boiled chestnut leaves. Nanny tea – tea made with dried sheep dung.)
Meanwhile, Viola's father and Hugh dissected the offending snake. They roasted the snake over a fire. They said "words of the dark charm" over the cooking snake. Then, they applied the snake meat to Viola's wound.
Viola's mother turned away, ashamed that her husband and foster son used "witchcraft" (her words) to treat the snakebite.
Simon Girty appeared in the story and declared his sympathy for the Native Americans. (I love that Simon Girty appeared in this story!) In one scene, Girty bought Hugh a drink in a Hannastown tavern. Girty proceeded to tell Hugh why he supported the actions of local Native American chiefs. (Girty also spied Crawford sitting on the other side of the bar, and talked about his dislike of Crawford.)  Later, after Girty and Hugh rode together in this campaign.
Girty told Hugh how the outcome of the campaign (several dead Native American women) disgusted him. Girty defected from the Pennsylvania militia and joined the British.
"The Day Must Dawn" has been out of print by The Macmillan Company for years. The Westmoreland County Historical Society's website used to sell a paperback reprint of this book. I bought my own hardback copy used on Amazon.
I found some good biographical information on Turnbull at Peter Oresick's The Pittsburgh Novel and Goodreads. However, one of the librarians at Saint Vincent College introduced me to Turnbull when I worked at the library as a student. As I mentioned above, Turnbull grew up in New Alexandria, PA. Saint Vincent College is a very short drive from New Alexandria.
Turnbull actually graduated from Indiana University of Pennsylvania (IUP). (IUP used to have a building named "Turnbull Hall" in honor of her. My sister, a double-graduate of IUP, told me that the school tore Turnbull Hall down a few years ago.)
Turnbull married a man who then left to fight in World War I. Afterward, Turnbull and her husband moved to New Jersey. Turnbull became a best-selling author. She set several of her novels in Western Pennsylvania.
So, I've just outlined three very different historical novels about Hannastown (Hanna's Town), Pennsylvania.
Check back for future updates about my favorite podcasts and travel adventures.