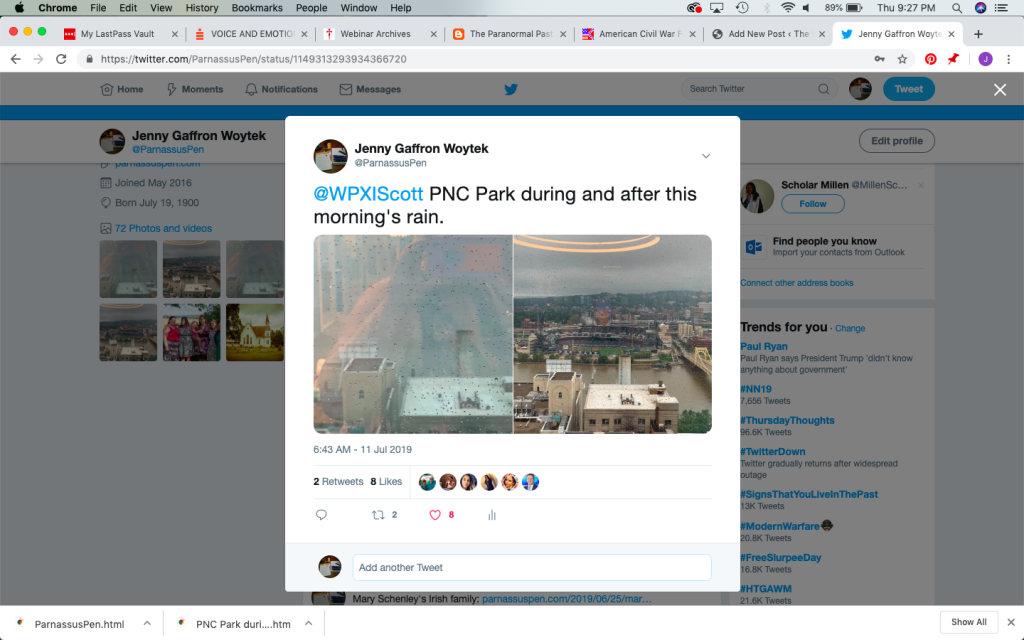 This morning, my husband and I stood in pouring rain to catch a bus to our jobs in Pittsburgh.
The rain stopped long enough for us to disembark from the bus at our stops and walk to our offices.
Then, a second round of morning thunderstorms swamped Greater Pittsburgh.
Flash flooding and landslides closed roads here. We made the headlines on Weather Nation, even as the Gulf Coast prepared for a potential hurricane.
We learned throughout the day that our region got absolutely slammed by this morning's flooding and that a third round of storms threatened the evening commute.
Now, my husband and I drive each day to a "Park and Ride" parking lot. We ride into Pittsburgh on the same bus. Then, my husband transfers to another bus for the third "leg" of his morning commute. We repeat this in the afternoon.
My husband and I – especially my husband – depend on tweets from our public transit agency about detours and delays to our bus routes. Our public transit agency is usually VERY active on Twitter.
More importantly, we depend on Allegheny County's Twitter account in order to stay updated on road closures and detours between our workplaces and our house.
Finally, I check tweets from the National Weather Service's Pittsburgh office about changing weather conditions.
Unfortunately, Twitter went down for several hours this afternoon.
The Twitter outage complicated things as we planned our evening commutes. This all worked out for us in the end. We arrived home safely after several traffic delays and detours.
However, how did this Twitter outage affect people who are trying to plan for the potential hurricane on the Gulf Coast?
I said to my husband, "It's funny how quickly we've come to depend on a technology that I didn't even have as a kid."
To be clear, the internet did exist when I was a little kid. However, I didn't know that the internet existed. I didn't have access to the internet. Neither did anybody in my parents' social network.
It concerns me now that I depend so much on social media, which is privately owned and controlled, for public safety information.
I need to figure out how to be less dependent on social media (and on the whole internet, really) in regards to my standard of living and my personal safety. I welcome any comments that you have on this.