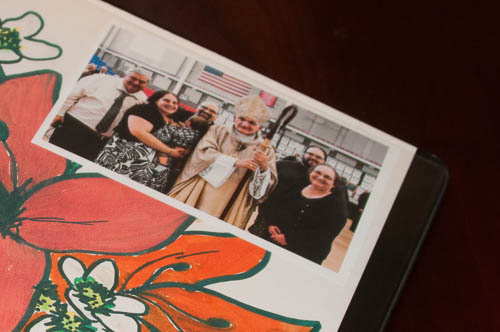 We are coming up on the third anniversary of the day that my mother-in-law, Fran, passed away.
Fran loved mystery novels, books of all genres written by Pennsylvania authors, and books written by women.
For instance, she loved to tell friends and family that mystery author Mary Roberts Rinehart (1876 – 1958) was a native Pittsburgher.
Fran took Rinehart's The Circular Staircase on vacation. Then, she downloaded a Rinehart travel memoir onto her tablet and read that during the same vacation. She paused multiple times to tell my husband and myself about the her favorite parts of the Rinehart memoir.
For instance, Fran read us a page in which Rinehart talked about the household staff that Rinehart brought along on an African safari.
Fran said, "Can you imagine? Bringing servants with you? To go camping?" She laughed. She got quiet and read more for a little bit. Then she told us about another story in the Rinehart memoir that tickled her fancy.
I do the same thing every time that I blog here about something that I just read that excites me. You are all excellent people for reading the little tales that I recount from other people's books.
My own mom, Shirley, passed away last October. Shirley also read voraciously. Even better, she read often to me. Finally, my grandma, Hilde, taught me to love historical fiction.
In memory of these three fabulous women, I have two special treats for you blog readers:
Special Treat #1.) I added the following new category to The Parnassus Pen: Women Writers. If you want to read any or all of my blog posts about writers who also happened to exist as women, you just need to do any one of the following:
A.) Click on the link that I provided in the above paragraph.
B.) Go to any post that I wrote in the "Women Writers" category. You will see the category label on the left side of that post. You can click on the actual words "Women Writers" on such posts.
Special Treat #2.) During the month of August, I will inundate this blog with short tales about women who wrote stuff.
I have no plans to blog this month about anybody that I studied in high school English class. So, you won't see any posts this August about Jane Austin or the Brontes. (My apologies to you Janeites out there!) Futhermore, I will not mention any of the fabulous women writers whom I grew up loving. (Sorry, Laura Ingalls Wilder and Lucy Maude Montgomery.)
I WILL mention several women who I didn't even know were writers until very recently.
My series about women who wrote stuff launches next week. In the meantime, please check out all of my blog posts about Women Writers.