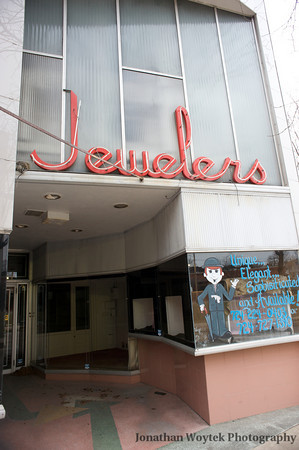 I committed to blogging this month about women writers. Then, I realized that the movie "Where'd You Go, Bernadette?" will finally be released this month.
This movie was based on the book of the same name by Maria Semple. The movie was supposed to be released over a year ago, but the release date was pushed back twice.
The story actually took place mostly in Seattle. However, the actual movie was filmed in Pittsburgh and my current town, New Kensington. In fact, one scene was filmed down the street from my house, at the former Bloser's Jewelry building. I pasted above a photo that my husband, Jonathan Woytek, took of this same building in 2009.
I read the book a few years ago. I didn't care for it. I took the book too seriously. This novel was a dark comedy. Just about every adult who appeared in the story was a jerk. The protagonist's husband was a fancy schmancy developer at Microsoft. The protagonist (Bernadette) was an award-winning architect who dropped out of her own life after professional and personal setbacks. I personally believe that "untreated mental illness" was another main character in this story. I think that I would have enjoyed the novel more had I read it with a "tongue-in-cheek" attitude.
I'm interested in seeing which scene or scenes from the movie were shot in New Kensington. I'm also interested in seeing how well the novel's dark comedy translates to the big screen. I might possibly watch this movie.
Check out this link to the blog post that I wrote about the book two years ago, on my old blog.