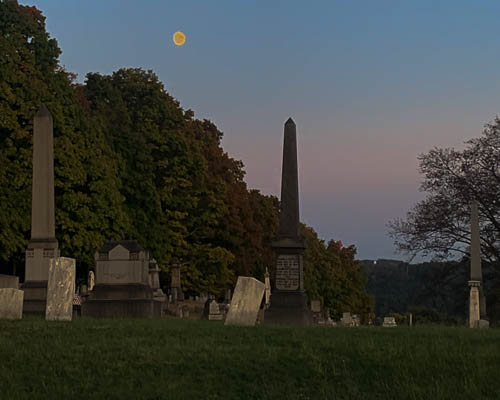 I attended a "ghost" history walk in Prospect Cemetery last week.
The people of Brackenridge, PA, established Prospect Cemetery in 1864.
This cemetery includes markers from as far back as 1817. (The Victorians moved graves to Prospect from other local burying grounds.)
The remains of Brackenridge's founder and namesake (Judge Henry Marie Brackenridge) and his family rest here.
The 13 acre cemetery sits on a hill overlooking the Allegheny River, upstream from Pittsburgh.
A few years ago, the cemetery met financial troubles. A local newspaper covered the issue in several articles.
Later, volunteers organized annual "history ghost walks" to raise money for cemetery upkeep.
Jonathan and I attended the walk each year. (We paid $10 per ticket this year.)
Each year's ghost walk featured Judge Brackenridge and his wife. The other featured cemetery residents varied each year. Volunteers dressed in period costumes as "ghosts" – the people featured on that year's tour- and reenacted that person. The "ghosts" featured included deceased community members from both the 1800's and the 1900's.
This year's featured "ghosts" included TWO Civil War veterans. One of these veterans was captured at the Battle of Chickamauga and taken to Andersonville Prison. He later wrote a book about his wartime experiences. This year's tour also included a World War I veteran who later served as a police officer for decades.
In my opinion, the "history ghost walk" is a creative solution to the cemetery's situation.
This year's walk occurred under a nearly-full moon.
(I'm not aware of any historical fiction that included Henry Marie Brackenridge. However, his father, Hugh Henry Brackenridge, appeared as a character in the novel The King's Orchard by Agnes Sligh Turnbull. Hugh Henry founded the University of Pittsburgh. Here's another blog post that I wrote about the Brackenridge family.)