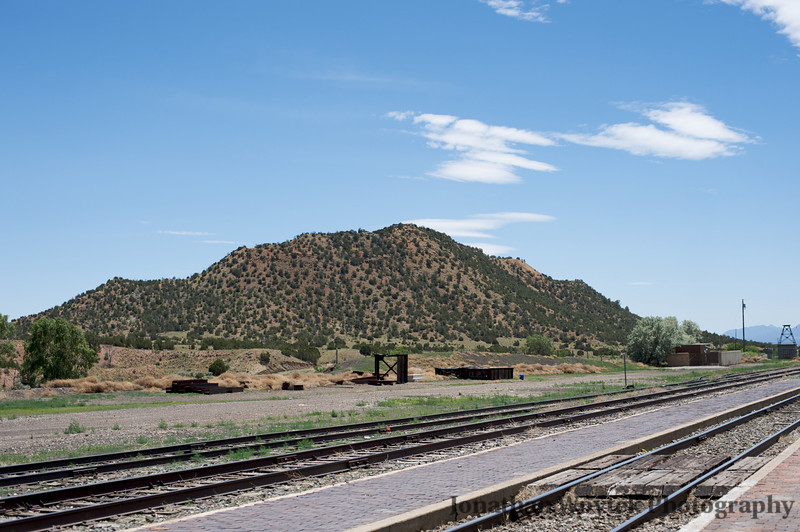 What's it like to be the real-life great-great granddaughter of a famous ghost? A ghost that prime time television featured?
I just learned all about this from reading American Ghost, by Hannah Nordhaus.
This is a non-fiction / travel/ family memoir. Julia Staab, a Jewish German American who died in 1896, allegedly haunts an upscale hotel in Santa Fe, New Mexico. The author Nordhaus is Julia's real-life great-great-granddaughter. (The book referred to her as "Julia" so I will as well.)
Julia died in the Santa Fe mansion that her husband, the merchant Abraham Staab, built for their family. She was 52 years old and the mother of eight children. Her youngest child passed away a few years before Julia's own death. Julia allegedly spent a significant part of the end of her life shut up in her bedroom. She did not attend her own daughter's wedding.
Decades later, this mansion became the La Posada de Santa Fe, a hotel and spa.
In the 1970's, a La Posada hotel employee reported seeing a ghost. More ghost claims followed. Rumors and local folklore spread regarding Julia's "real" cause of death and her existence in the spirit world.
Nordhaus researched family documents, letters, diaries, immigration records, etc. She interviewed family members who had personally known Julia and her children. Nordhaus is a direct descendent of Julia's daughter, Bertha. She obtained Bertha's diary, written during the final years of Julia's life. She travelled to Santa Fe and to Julia's childhood home in Germany. She discovered that although Julia died in Santa Fe in 1896, Julia's younger sister, Emilie, perished (at the age of 81) in a Nazi concentration camp in 1943.
Years ago, I watched the NBC primetime show Unsolved Mysteries each week. This show's season 7, episode 2 (which aired October 2, 1994) included the story of Julia Staab's haunting at La Posada. The show included coverage of an actual "scientific" ghost hunt, complete with EVP recordings! (If you have an Amazon Prime membership, you can watch this episode on Prime at no additional charge. The episode is SO CHEESY!)
If you listen to the Spooked podcast by Snap Judgment, note that Season 2, Episode 14 (The Intruders) told Julia's story. The podcast included an interview with Nordhaus and promoted her book. I actually found out about American Ghost from this podcast episode.
Now, to be honest, the "tragic story of Julia Staab," as the general internet presented it, reminded me very much of the internet rumors about the Lemp family of St. Louis. (Here's a good podcast about the Lemp family.) The patriarchs of both families were extremely rich self-made German immigrants in the mid 1800's. Both had matriarchs named Julia. Both families included significant amounts of children. Rumors of unexplained tragic deaths followed both the Staabs and the Lemps. Both families struggled with mental illness. Both families lived (and died) in Victorian mansions that fell into decline, underwent renovations, and then became upscale "haunted" hotels.
Dark tourism industries (including ghost hunts, etc.) sprang up around both the Staab and the Lemp family tragedies.
How refreshing to read about Julia in American Ghost, a family memoir written by her own great-great granddaughter!
Now, on a more personal level, I thought about my own personal travel experience to Santa Fe in 2009 when I read American Ghost.
Jonathan and I rode an Amtrak from Pittsburgh to Chicago, and then in Chicago we switched trains and rode to Lamy, New Mexico. The train didn't go to Santa Fe. In Lamy, an Amtrak contractor picked us up in a cargo van and drove us 18 miles to a car rental in Santa Fe. We did a reverse of this route for the trip home.
We went to Santa Fe that weekend for a wedding. The other guests from Pittsburgh all flew into Chicago, and then flew from Chicago to Albuquerque, and then rented cars and drove to Santa Fe.
We joked that a city that had a RAILROAD NAMED AFTER IT didn't actually have direct access to the railroad.
I learned from reading American Ghost that Abraham Staab fought to have the railroad build a spur from Lamy to Santa Fe. American Ghost even remarked on the irony that Santa Fe had a railroad named after it, and yet Staab struggled to have the railroad come to Santa Fe. A few decades later, Santa Fe lost its railroad spur.
Speaking of the reference to "Lamy, New Mexico," American Ghost devoted over a chapter to that town's namesake, the Catholic Archbishop Lamy. Abraham and Julia Staab apparently fostered a very close relationship with Archbishop Lamy.
American Ghost explored the claims that Abraham Staab's money helped to build Santa Fe's Cathedral Basilica of Saint Francis of Assisi (St. Francis Cathedral).
We actually toured the cathedral when we visited Santa Fe.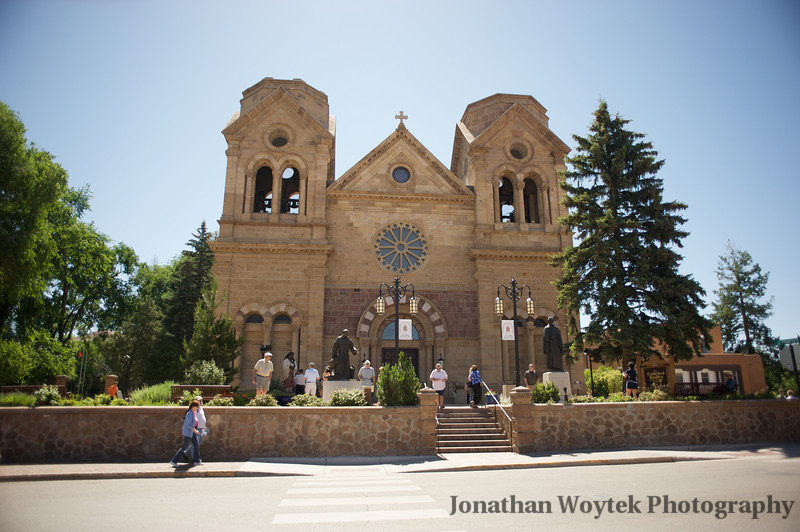 American Ghost has a copyright date of 2015. I wish that I could have read this before I toured Santa Fe in 2009.