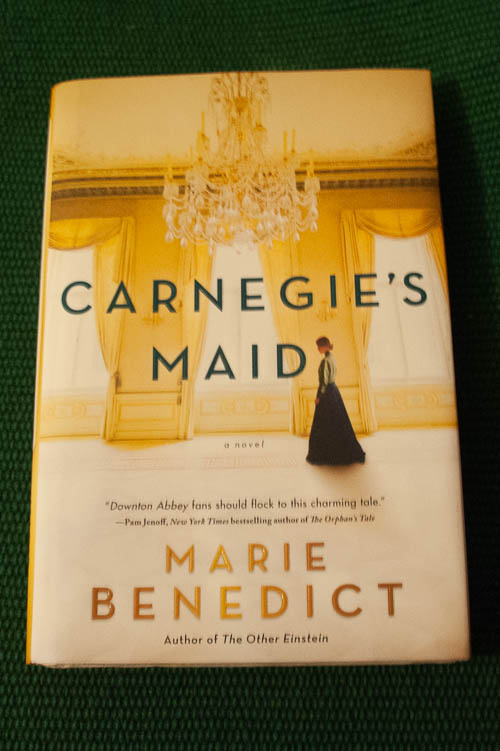 I went to a lecture at a Carnegie Hall last night.
No, I didn't travel to THE Carnegie Hall in Manhattan.
Jonathan drove me to the Andrew Carnegie Free Library & Music Hall in Carnegie, Pennsylvania. I heard an author speak about her historical fiction novel about the industrialist Andrew Carnegie and his (fictional) Irish maid, Clara Kelley.
I learned that the staff at this library refer to the place as the "Carnegie Carnegie."
Andrew Carnegie gifted the community of Carnegie with this library since they named their hometown after him. Most of the other libraries named after Andrew Carnegie in Greater Pittsburgh required community contributions to build. Not so with the Carnegie Carnegie. Andrew Carnegie funded this himself.
I came there for the talk by author Marie Benedict about her novel Carnegie's Maid.
Benedict created the character of Clara Kelley based in part on her own Irish immigrant ancestors who worked as maids during the Industrial Revolution. She cast Clara Kelley as the fictional lady's maid for Andrew Carnegie's strong-willed Scottish mother, Margaret Carnegie. The book took place during the years 1863 – 1868. At this point in time, Andrew Carnegie was rich enough to pay for a lady's maid for his mother. He was rich enough to pay an immigrant to take his place as a Civil War soldier. He was not yet one of the richest men in American history.
I enjoyed reading Carnegie's Maid. I enjoyed the book talk even more. This was one of the best book talks / author visits that I ever attended. The author brought a slide show with photos of Andrew Carnegie, Margaret Carnegie, and historically significant buildings that figured into the novel. She taught us about her research process.
Here's something that I noted when I read the book, but that Benedict came out and said: Pittsburgh's dirty air occupied a role as "its own character" in Carnegie's Maid. Benedict's narrator mentioned the dirty air often. Now, the book took place in the 1860's. However, my own husband's late Babcia (the Polish word for grandma) worked in downtown Pittsburgh in the late 1940's / early 1950's. In that time, the woman wore white gloves as they travelled and worked. Babcia brought TWO pairs of gloves with her each day. She had to change her gloves partway through each day because the original pair became dark with soot. She did this every work day. And she worked in an OFFICE.
Pittsburgh's air was DIRTY for a century or more. In fact, as I mentioned last week, I wonder often about the role that Pittsburgh's air played in my own mother's death from lung cancer.
I was born before Pittsburgh's steel industry imploded and took a lot of American dreams with it. I visited my grandparents in Pittsburgh (Carrick) during my early years. I remember how the city smelled of sulfur from the mills on a late December night.
Pittsburgh was built on the backs of Americans and future Americans who ingested this filthy air.
Now I work in downtown Pittsburgh. My downtown Pittsburgh is much cleaner than Babcia's downtown Pittsburgh. I hear the hype about Pittsburgh's exciting renaissance. I visit some of the trendy, gentrifying "hipster" neighborhoods in Pittsburgh. And I remind myself that people suffered – still suffer – from Pittsburgh's gritty past.
I brought much of myself and my past into this book as I read it.
I want to attend another talk by this author after she releases her next book.