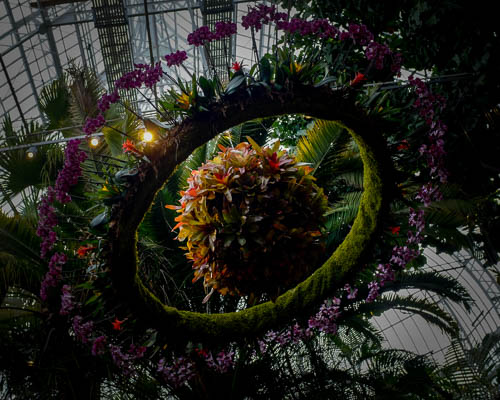 Phipps Conservatory in Pittsburgh just ended a show themed on outer space. I laid on the floor underneath an exhibit there and took the above photo. This exhibit represented one of the ringed planets: Saturn, Jupiter, Uranus, and Neptune.
I just learned by reading the website for History (formerly The History Channel) that allegedly at one time, scholars from the University of Paris claimed that on March 20, 1345, the planets of Jupiter, Saturn, and Mars lined up in a specific way to create the Black Death (Bubonic Plague).
My sister O. celebrates her birthday on March 20. So, now I can tease her about this.
My other sister, K., got me attached to an NPR podcast called Radiolab. Radiolab used to focus on science and technology. I recommend the episode from November 14, 2011, titled Patient Zero. The episode began with the story of Typhoid Mary, and then explored the identity of Patient Zero from the AIDS epidemic.
(The term "Patient Zero" referred to the index case or initial patient in an infectious disease outbreak.)
If you want some humor when you listen to podcasts about infectious diseases, check out Episode #105 of the true crime comedy podcast, My Favorite Murder. The second half of this explores Typhoid Mary.