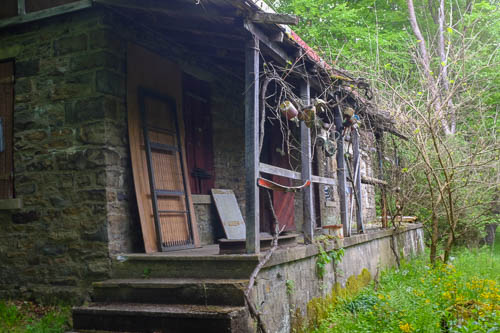 Almost every person in the entire world had a rough few months, or a rough few years, or a rough life.
I've worked from home full time since mid-March. I know that this takes me out of the running for "who had it roughest."
I don't want to get into a contest about who had it roughest. I won't win. I don't want to win.
Even so, I've struggled since March to make it through each work week – and that's okay.
I heard through our aunt that my cousin K.G. and her co-workers decided to NOT call our current reality the "New Normal." Instead, they refer to it as the "Temporary Weirdness."
(Cousin K.G., if you're reading this, keep in mind that I'm not trying to be F. Scott Fitzgerald as he plagiarizes his wife Zelda's diary. Let me know if you want me to remove all references to "Temporary Weirdness" or else give you a writing credit for this blog post.)
So here's two things that keep me going through this "Temporary Weirdness":
1.) My "new" chair
My husband J. also works from home in our "Temporary Weirdness." When this "started," J. purchased a "new" chair for himself. That is, he purchased a chair from a company in Chicago that refurbishes office furniture and also manufactures Covid-19 masks. (The company was permitted to stay open BECAUSE they added "mask making" to their list of things that they now do.)
Meanwhile, I worked each day from one of our dining room chairs. I did this for several weeks.
I told myself that it wasn't "necessary" for me to spend money on my own "new" chair because I should save up all that I could just in case I caught Covid-19 and got really sick or died. I know, that was stupid.
My back hurts even when I'm not sitting all day on a dining room chair. So, for several weeks, I snapped at J. all day, every day.
Then J. said to me, "Why don't you use my chair today?"
I used J.'s chair that day.
That evening, we ordered a chair for me from the same company.
I really wish that I had just purchased my own comfortable chair back in early March!
See, I read the blogs of other people who work for long periods of time from home offices. A bunch of these people highly recommended that readers invest in comfortable office chairs. And it STILL took me weeks before I broke down and bought myself such a chair.
2.) Awesome podcasts, videos, and live-streamed events from extremely talented people
Ever since the global pandemic "quarantine" (it's not a REAL quarantine) hit my world, I've entertained myself with podcasts, virtual tours, videos, live-streamed events, etc, from entertainers. Many of these extremely talented souls post links to their online tip jars since they haven't been able to perform to live audiences since March. And of course I tip. After all, I'm privileged enough to work 40 hours a week from my "new" comfortable chair.
I consider many of these talents to be "essential workers" because they've helped me to function ever since the "Temporary Weirdness" started.
Actually, some of these talents helped me to make it through life as a semi-functional adult ever since my mom got sick and died two years ago.
And the thing is, almost all of these talents perform in places too far away for me to realistically visit in person. So, if the internet didn't exist, I wouldn't have the joy that they all give to me.
Here's the thing that hurts me: I know that I will never be able to do for other people what these performers do for me. I will never be able to write a podcast, or take a photo or video, that will help somebody who just lost her mother make it through a stressful day of work. I will never give somebody a reason to get out of bed after nightmares about dying alone of Covid-19.
But, I can attempt to keep a single reader fairly amused for a few minutes.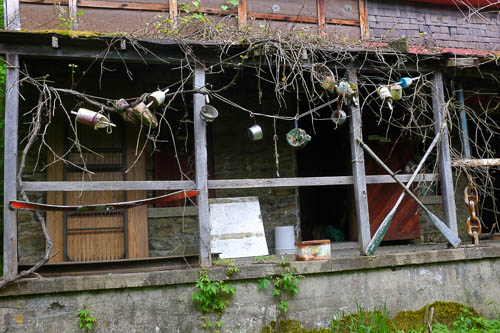 If you haven't figured it out by now, this post isn't actually about the Ghost Town Trail. Here is an actual post about the Ghost Town Trail.
(Just to recap: The Ghost Town Trail is a walking and bike trail in Cambria County, Pennsylvania. I graduated from high school in the county that sits just below Cambria County. After college, I worked for Americorps in the nearby economically devastated city of Johnstown. I shared office space with several Americorps members who contributed to the Ghost Town Trail. )
Anyway, my husband J. and I biked on the Ghost Town Trail last month.
(Don't worry, the trail was "legally" open that day. We social distanced. We brought masks. We hand sanitized. We did nothing during our bike ride that would cause you to blame us for killing your grandparents. )
I blogged last June about our previous trip down the trail.
Last month, we rode on a newly-opened trail spur. This spur took us past the spooky old train depot pictured in this post.
The thing reminded me of Stephen King's short story "Willa."
I told J. that the train depot just HAD to be haunted. I just HAD to grab a photo just in case I "saw a ghost".
I didn't see any ghosts. Still, I hope that you enjoyed these photos for a few minutes.
Here's something else that's up with me and J.: My husband has been really busy with woodworking during our "quarantine." He finished our downstairs bathroom medicine chest and he made himself a new desk. (You know, so that he can work from home during our Temporary Weirdness.) Here's a blog post about the chest. He already wrote the post about the desk and he will post it next week.