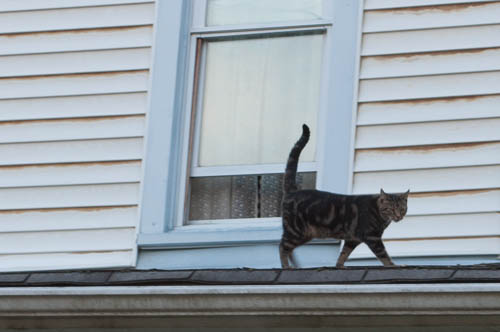 . . . or, if you don't have a cat around, get a dog or a small child to ham it up on camera for you.
I mean it. I have watched virtual Facebook ghost tours by tour guides from two different businesses in two different cities, presented inside the tour guides' houses, in which their cats crashed the presentations.
During a third tour guide's virtual ghost tour, his adult daughter and young grandchild showed up in the middle of the tour to say hello.
Guess what? I virtually tipped all three of these guides.
One of these guides, Chris Staudinger from Pretty Gritty Tours in Tacoma, begged his cat to "earn her keep." So of course I tipped. How could I deprive his furry friend of her catnip?
I blogged here about a bunch of the virtual spooky tours that I watched lately. I just remembered the cat thing this evening.
I think that the cat appearances started innocently for each of these guides. The cats showed up and realized that their humans paid more attention to the cameras than to them. The cats had to fix this by jumping on their humans. Then, then Facebook comments for each livestream veered from the topic of ghosts to multiple questions about the cats. So, these cats appeared in future home-based virtual tours.
Can't say that I blame them. My cat is one of the few living, breathing things that I don't social distance with these days.
In addition to showing off his cat, Staudinger does jump scares in his virtual ghost tours. He warns his audience at the beginning of each tour. Then, about ten or twenty minutes later, he shows a photo of a dark room. He tells his audience to focus on one of the corners so that they can "see the ghost."
Then . . . well, you were warned.