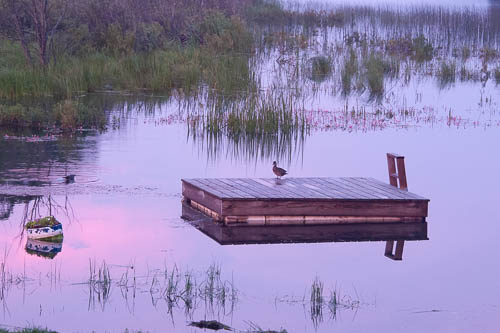 In case it's not clear, I don't have a background in biology. I had to take science credits in college. I took the introductory biology course for non-science majors. This was the very course that my school's science majors mocked – heavily. I studied and I only got a B in the class.
Also in case it's not clear, I'm not a duck expert. I grew up in a house full of my dad's duck hunting magazines. I didn't actually read any of them.
I just wanted to make sure that we all understood this. Now, here's my story.
We social distanced in the woods for a few days. We rented a house next to a marshy cove on a lake. We watched the wildlife for hours.
We saw mutiple duck families. For instance, Duck Family #1 consisted of a Mama Duck and three tiny baby ducks. Duck Family #2 included a Mama Duck and three larger duckings.
We think that both duck families were mallards. We based this upon my husband Jonathan's Google search and also upon the illustrations that I saw on the cover of my dad's duck hunting magazines.
Both Duck Family #1 and Duck Family #2 hung out in the yard behind "our" rented house. Both duck families walked up onto the porch of "our" house several times each day. Both duck families walked right up to me. Both mama ducks seemed chill when their ducklings pecked at my sandals. The ducks seemed to eat insects off of the porch.
We didn't feed any of the wildlife at this house.
Duck Family #2 also walked over to the yard behind the neighboring house, which was about 100 feet away along the same lakeshore. The vacationers who stayed at the neighboring house DID feed duck family #2.
However, whenever Duck Family #1 attempted to go into the neighbor's yard, Mama Duck #2 honked up a storm and ran Duck Family #1 out of that yard.
This happened several times in one day.
A few hours later, Duck Family #1 was in the water directly behind "our" house. Mama Duck #2 chased one of the ducklings from Duck Family #1!
The people staying in the neighboring house yelled at Mama Duck #2 for being a bully. So did I!
A few hours passed. Mama Duck #1 showed up again with her little ones. However, she got all worked up about something. She made a bunch of duck noises, and then she flew off, came back, and flew off again.
Mama Duck #2 showed up, and she did the same thing!
We wondered if a predator threatened them. Perhaps a coyote, or another bird? A snake? But why would the mama ducks fly off?
About this time, we watched an eagle fly over our little cove. Were the mama ducks trying to scare off the eagle?
Both mama ducks returned to their ducklings. Both duck families swam back to the reeds in the marsh that lined the cove where we stayed.
Now, I need to mention that Duck Family #2 (the family that included the older ducklings) included one duckling who kept wandering off from the group.
The next morning, Duck Family #2 showed up with Mama Duck #2 and only two ducklings. What happened to Duckling #3? Was this missing duck the one who kept wandering off from the group? Did it get lost? Did a predator pick it off and eat it?
Later that day, a lone mallard showed up by itself and hung around. We saw through the binoculars that its feathers had molted. So, was this lone mallard actually Duckling #3 from Duck Family #2? Had its feathers molted in between the time that we last saw Duck Family #2 with three ducklings and then the time that Duck Family #2 reappeared with only two ducklings?
It's a mystery.
Oh, we also saw a bunch of wood ducks. We saw two herons. We saw a bunch of deer, cranes, cormorants, lunes, and one woodpecker. We saw the aforementioned eagle and also an osprey.
Now, the rental house where we stayed has a book where occupants can record their adventures. The prior week's occupants at that house wrote that they watched a snake eat a frog.
Social distancing can be fun.
Edit: Two days after I wrote this entry, we watched a mink run along the lakeshore carrying a snake in its mouth. I really wanted to grab a photo of the mink eating the snake so that I could post it on this blog, but that didn't work out. I also saw a mink eating an apple under one of the apple trees that sits next to this lake house. So, now we think that the mink was the potential predator that scared the mama ducks.