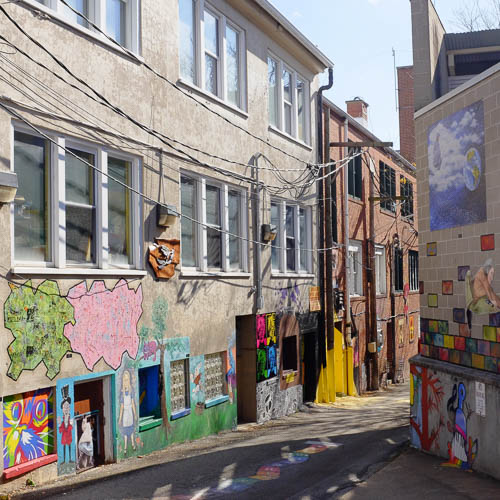 The first time that I went to downtown Greensburg, Pennsylvania, I went to a tattoo parlor. I also walked up and down the city's hilly streets, popping into any store that advertised cigarettes, and asking if they also sold Playboy magazine.
The tattoo and Playboy weren't for me.
At that time, I attended college at Saint Vincent College in nearby Latrobe. I had never before visited downtown Greensburg for these reasons:
1.) I had no reason to go into downtown Greensburg. None. Like just about almost every other place in western PA, Greensburg suffered when the steel industry collapsed. Greensburg's big fancy downtown department store closed. The area's only decent mall was several miles away, on the interstate.
2.) I didn't own a car at that time. Uber and Lyft didn't exist. I only went places where other people offered me rides. Up until my trip to the tattoo parlor, nobody had ever offered me a ride to downtown Greensburg.
Then, this young woman who lived in my dorm named "Esme" came back from summer vacation with several new tattoos. She decided that she needed at least one more tattoo – of the Playboy Bunny, on her back.
Our mutual friend "Nina" agreed to drive Esme to a tattoo parlor in downtown Greensburg. (Esme didn't own a car, either.) For some reason, they agreed to bring me along on the "adventure."
So, we all set off for Greensburg.
One of the tattoo parlor employees told us that we needed to give her a picture of the Playboy Bunny if we wanted the artist to ink it on Esme's back. Smartphones weren't a thing that any of us owned back then. We couldn't just Google an image of this.
So, for the next hour, Nina and I walked into stores and asked the clerks if they sold Playboy. We walked up and down – and up and down and up and down – the streets of Greensburg.
I don't remember us actually finding a Playboy magazine to purchase.
But, we must have found one! I watched Esme get the Bunny tattooed on her back that afternoon. In my opinion, she seemed to be in much pain during the whole ordeal.
Had I been more of a STRIVER, I would have stayed at Saint Vincent and studied for whatever class I blew off that day. I would be a bigger professional and financial success today. But, here we are! I get to sit all day in my yoga pants, in my comfortable chair in Parnassus, and work from home. You get to hate-read my blog. Win, win!
A few months after our Playboy Bunny scavenger hunt, I returned to downtown Greensburg for a handful of job interviews. I didn't get any job offers out of this. Maybe all of the hiring managers at all of these companies would have picked me, IF ONLY I had gone to class that one day instead of visiting that tattoo parlor.
(Sidenote: Somebody that I know DID get one of those jobs for which I interviewed in Greensburg. This person left the job a few weeks later. I don't know why this person left.)
Now, I know that Greensburg is more than just tattoo parlors and stores that sell cigarettes and possibly Playboy. And jobs that I couldn't get.
Greensburg became the Westmoreland County seat after Seneca warriors and British Loyalists burned down Hannastown in 1785. My dad was born in Greensburg. My grandma worked for this very county for years. Later, my husband and I applied for our marriage license at the courthouse here. I saw the deed to my great-grandparents' farm on a computer inside this same courthouse.
Now, Seton Hill College looks over downtown Greensburg from its very own bluff. My dad's youngest sister graduated from Seton Hill. So, they must be a fine school if they convinced my fabulous aunt to spend her money and her time there.
The Westmoreland Cultural Trust poured its heart and soul into gorgeous renovations on such downtown Greensburg landmarks as the 1912 train station and the Palace Theater. Cafes face the courthouse.
Last fall, my husband Jonathan and I walked around Greensburg and took photos. I took the two that I posted here on this blog post.
A lot of people are angry and / or worried right now. I just want to bring you all some joy by showing you photos and telling you that I was weird when I was 21 years old. Some things never change.