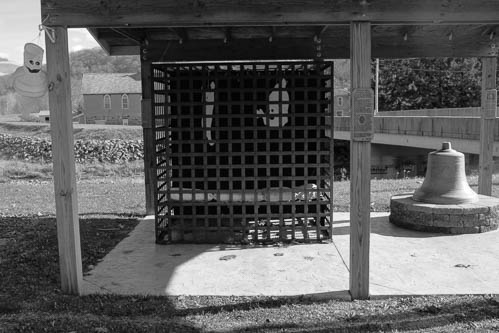 A sign on the Ghost Town Bike Trail in Vintondale, Pennsylvania, identified the cage pictured in the above photo as "Vintondale's Single Cell Jail."
The sign identified Denise Dusza Weber as a Vintondale historian. The sign attributed the following story to Weber:
This cell was one of two located in Vintondale's borough building. The local public school had located classrooms in this same building due to the school's increased enrollment in 1912-1913. As a result, one classroom shared a wall with this jail cell. In February 1913, students in this classroom reportedly heard moaning on the other side of their shared wall. Weber noted that a miner had taken his own life in the jail cell.
I learned that Weber wrote at least two books on the Vintondale area.
Jonathan and I biked on the Ghost Town Trail on November 1, 2019. On that day, Vintondale was still decorated for Halloween. The single cell jail stood in a pavilion next to the bike trail, and it included Halloween decorations. We observed two paper "ghosts" hanging in the cell.