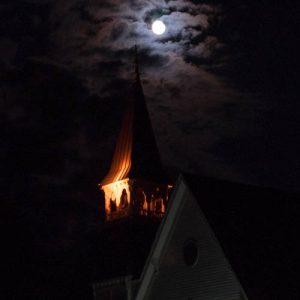 For this tale, I changed almost all of the specific details, including names and places, in order preserve the magic of a small town's ghost story.
Dad taught high school for about four decades before he retired. During this time he also worked a second and sometimes third job on evenings, weekends, and summers.  Spread over four decades, the jobs included: ambulance driver, chimney sweep, youth counselor, and seasonal law enforcement for the Pennsylvania Game Commission and for the Department of Conservation and Natural Resources (DCNR). 
For this story, my family lived near a Central Pennsylvania farming town I shall call "Random Woods."
Dad taught at Random Woods High School. He also held a part-time law enforcement job patrolling for illegal spot-lighters (poachers – you know, illegal hunters) in the woods outside the town. Now, dad worked many nighttime shifts. For these shifts, he often parked his patrol car in this little gap between the edge of the woods and Random Woods' Civil War-era cemetery.
Then he shut off the car lights and sat for hours in the dark.
Whenever the topic of ghosts comes up, Dad says that he doesn't see things that he can't explain. One time he saw a glowing red disk in his mother's backyard – which turned out to be a glow in the dark frisbee.
His countless nights spent next to a cemetery didn't scare him. Ghosts did not matter. Physical, living humans mattered. In his job enforcing hunting regulations, just about every person that Dad approached also carried a gun.
So, on the night of this "ghost story," Dad worked his law enforcement shift. He parked in his usual spot between the woods and the cemetery.
He sat for hours in the dark.
Crack!
He heard a noise.
He jumped in his seat and as a reflex he hit the patrol car's headlights switch.
He saw a figure in the cemetery.
The figure crossed the cemetery, and then disappeared.
Dad thought all weekend about the "apparition" in the Random Woods cemetery.
Why did he see a figure appear and vanish in the cemetery late at night? A figure that did not present itself as being an illegal hunter?
Dad walked into Random Woods' only grocery store a few days later.
He ran into his former student, Kurt.
My dad and Kurt chit-chatted.
Then Kurt said, "Mr. G, the graveyard is haunted!"
Dad said, "Really, Kurt? Haunted?"
Kurt said, "Yeah! I spent Friday night at my girlfriend's house. On the way home, I cut through the graveyard. All of a sudden a huge glowing light shined on me. Oh my god, Mr. G., I hauled ass out of there!"
And that's how my dad became a ghost story.