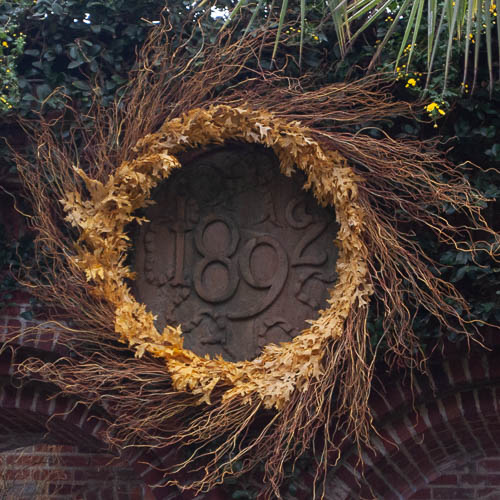 My sisters and I used to play "Six Degrees from Kevin Bacon." If you're not familiar with the game, it's based on the theory that everyone in the world can be linked by six or fewer relationship connections. So, when you play "Six Degrees from Kevin Bacon," one player picks a famous person from Hollywood, and then the other players try to link that person by six connections or fewer to Keven Bacon.
So, since Halloween was coming up, I thought that it would be fun to play "Six Degrees from H.H. Holmes."
Very briefly, H.H. Holmes was a serial killer (as well as a medical school graduate, body stealer, and con artist) active in the Eastern United States, Chicago, and Canada in the late 1800's. He was executed in Philadelphia in 1896. He confessed to 27 murders, but some writers speculate that he actually killed hundreds of people.
Holmes owned a building located three miles from the location of the 1893 World's Fair in Chicago. The building came to be known in popular culture as Holmes' "Murder Castle."
Writers theorized that Holmes took advantage of the large crowds in Chicago for the fair in order to pick out new victims. They conjectured that Holmes pretended to be a hotel owner and brought these victims to his Murder Castle under the guise of providing lodging. Then, he allegedly killed these out-of-towners.
Erik Larson's novel "The Devil in the White City: Murder, Magic, and Madness at the Fair That Changed America" ran with this particular narrative. In 2017, I took an architecture boat tour of the Chicago River. My tour guide referenced "The Devil in the White City" several times. I left the tour with the impression that this was a non-fiction book. I learned later that the book is NOT non-fiction. Larson even conceded in his remarks at the end of the book that many of the things that he wrote about Holmes' murderous activities were conjecture.
If you want to learn about H.H. Holmes based on documentation and research, then I recommend Adam Selzer's "Mysterious Chicago" Facebook page. Selzer has posted several "virtual tours" exploring Holmes on this Facebook page. He also wrote his own non-fiction book about Holmes. I didn't read the book, but I watched all of Selzer's Facebook videos.
Some writers claim that H.H. Holmes was also Jack the Ripper. However, Selzer discovered documentation that showed that Holmes was in the United States at the same time that the Ripper murders occurred in London.
So, back to the "Six Degree"thing.
Henry Phipps (a businessman who belonged to the South Fork Fishing and Hunting Club whose dam caused the Johnstown Flood of 1889) had Phipps Conservatory and Botanical Gardens in Pittsburgh erected in 1892 – 1893. The conservatory lists this history on its website. (The Phipps Conservatory website does NOT include that part about the Johnstown Flood.)
During one of my visits to Phipps Conservatory, I learned through an exhibit that representatives from the conservatory travelled from Pittsburgh to Chicago in order to acquire the plants that were exhibited at the 1893 World's Fair. The Phipps representatives purchased these plants (they outbid several other parties), then had the plants shipped by train from Chicago to Pittsburgh. These plants from the 1893 World's Fair became Phipps Conservatory's opening exhibit in 1893.
So, maybe the original plants at Phipps Conservatory in Pittsburgh were originally viewed – possibly even enjoyed – by the serial killer H.H. Holmes. Maybe H.H. Holmes lured one or more of his victims among these plants. Maybe H.H. Holmes attempted to prey on the people who travelled from Pittsburgh to Chicago, looking for Phipps Conservatory's first flowers. Maybe these plants are the ancestors of plants that I now enjoy when I visit Phipps.
You see, Erik Larson, I too can speculate about H.H. Holmes and his activities at the 1893 World's Fair in Chicago.
Here's my call to action: If you enjoy (or hate read) my blog, please share it with others would would also enjoy (or hate read) it.