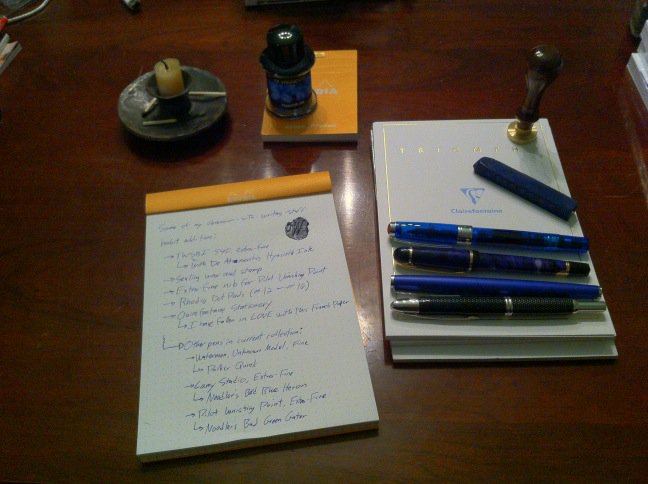 This is a story about somebody going through life as the sibling of a well-known author.
The subject of this story is somebody whom I respected in the brief time that I knew him.
At the same time – well, I find it tricky territory to separate what I know about people and what I know about their famous siblings.
For instance, I learned through Adam Selzer's "Mysterious Chicago" website that the Chicago grave of Charles Dickens brother, Augustus, identifies him as being the brother of Charles Dickens. It says right on his tombstone "Brother of Charles Dickens."
In another story, my own sister K. blogged here about the time that she sat next to Elizabeth Gilbert's sister, Catherine, at a library conference lunch. Catherine Gilbert Murdock is a writer, just like her sister Elizabeth. However, K. spent the lunch trying not to bring up how much she enjoyed Elizabeth Gilbert's books.
(K. and I are just two out of our own family of five total sisters, and we both know about going through life being compared to one's siblings.)
So, here's my story:
Once upon a time, I spent four years as a student at Saint Vincent College in Latrobe, Pennsylvania. Back in those olden days, all students – even full-time students – paid tuition by the credit. So, a full-time semester of 18 credits was more expensive than a full-time semester of 15 credits. As a result, I personally was very conscious about not taking any more course credits than I absolutely needed to graduate. I guess that some of my fellow classmates felt the same way. Maybe this led them to complain about taking "unnecessary classes." Or else, I just gave my fellow classmates too much credit for the reasons that they whined. (Pardon the pun.) Maybe my fellow students just moaned about taking "unnecessary classes" because it resulted in more schoolwork for them.
Anyway, back in those olden days, all freshmen were required to take "Exploring Religious Meaning." Half of the freshmen class took it in the fall, and half took it in the spring. After the scheduling department halved the freshmen class, they divvied us further into several sections for this class.
I took "Exploring Religious Meaning" during the fall semester of my freshmen year at Saint Vincent College. I had Father Nathan Munsch, O.S.D., as my instructor for this class. O.S.D. is the abbreviation for Order of Saint Benedict. Fr. Nathan was both a Roman Catholic priest and also a Benedictine monk. The Saint Vincent community included a Benedictine monastery and many Benedictine monks taught at the college.
I took this class during my very first semester at college. I was under the impression that this was the very first semester of college ever for many of my classmates as well.
From what I understand, Fr. Nathan taught at least one other section of "Exploring Religious Meaning" that fall. This is important.
Now, several weeks into the semester, at least one person complained to the Saint Vincent College administration about Fr. Nathan's "Exploring Religious Meaning" class. I don't know if the complainer (or complainers?) came from my section of the class or another section of the class.
So, we had to spend at least one entire 50 minute class period in an "airing of grievances." We had to explain what made us unhappy about the class. A debriefing. My big takeaway from this bitch session was that many of my fellow classmates "covered this exact same material" in their classes at their Catholic high schools. So, my big takeaway was that many of my fellow students were just a bunch of ex-Catholic school whiners. Or, maybe they disliked having to pay Saint Vincent for this course content after their parents had already paid their parochial high schools for similar wisdom.
(I graduated from a public high school. In full disclosure, some of my fellow classmates for "Exploring Religious Meaning" had graduated from the same Catholic high school at which my future husband graduated and at which both my future husband and my future mother-in-law taught years later. My future husband possibly graduated from high school with some of my "Exploring Religious Meaning" classmates.)
Fr. Nathan explained that "Exploring Religious Meaning" was a core requirement needed to graduate for every bachelor's degree program at Saint Vincent.
Life moved on.
Then, a few weeks later, Fr. Nathan started class by saying something to the effect of, "Well, you might have heard some rumors. So, I want you to hear what really happened directly from me."
Fr. Nathan's "Exploring Religious Meaning" students had attempted, once again, to get him in trouble with The Dean.
Fr. Nathan said something like, "Let me start by telling you the story that I told the other section of this class."
So, we learned that Fr. Nathan Munsch had a brother – Robert Munsch.
Robert Munsch wrote the children's book Love You Forever, as well as several other children's books. My parents owned a copy of Love You Forever. The plot of one episode of the television show Friends involved the book Love You Forever. I maintain that Love You Forever is a famous book.
(To give this a local connection, author Robert Munsch was born in Pittsburgh.)
Fr. Nathan explained to his sections of "Exploring Religious Meaning" that his brother Robert wrote "Love You Forever" in the aftermath of a heartbreaking tragedy in the Munsch family.
Then, Fr. Nathan said something to the other section of "Exploring Religious Meaning" to the effect of – wait for this:
"Sometimes, you just feel like flipping the middle finger at God."
And then –
Fr. Nathan flipped his middle finger at that particular classroom of freshmen college students.
Somebody reported this to The Dean.
So, that's why Fr. Nathan was in trouble again. Because he had gotten caught up in the emotion of his family's grief in front of a classroom full of eighteen-year-olds.
I don't know of any other incidents that happened to either section of this class.
I finished the class with an A because I am a Totally Stable Genius. Or because Fr. Nathan was an easy grader. Either one of those.
I graduated four years later.
Fr. Nathan continued to teach at the school.
Today I opened my mail to find a booklet from Saint Vincent College. The purpose of the book was to ask for money. I flipped the book open to the centerfold. I saw – two photos of Fr. Nathan Munsch teaching class! Also, three paragraphs about his current health challenges.
I only ever took one college course taught by Fr. Nathan. However, seeing the photos of him brought me back to the time that he made himself vulnerable to his students in speaking about his famous brother and about their family's experience with grief.