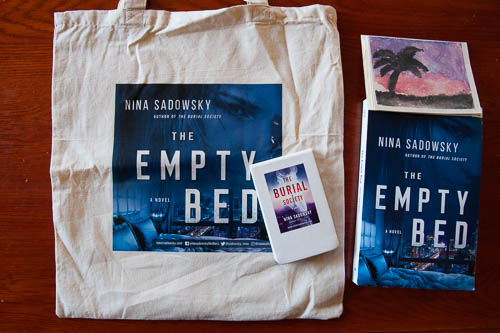 I am so excited to receive my prize in the mail today from the Nina Sadowsky's flash fiction writing contest that I won last month. To be honest, the card from Nina Sadowsky congratulating me for my winning entry is the item that I value the most from this package.
I accidentally wrote this story. Back in September, I saw a tweet about a flash fiction contest based on the theme of "lies." This theme reminded me that back in the summer of 2018, I was under the impression that my mom's cancer treatment was actually working. Then, this turned out to not be the case at all. Am I casting shade? Nah. Anyway, based on this memory, I wrote my award-winning story in one sitting. I submitted it a few hours before the deadline ended.
I have my writing notebook open in front of me now. On Saturday, February 1, I attended the in-person event "Time Management for Authors with Nicole Peeler." Per my notes from that date, I gave myself permission to never again attempt to write fiction because I don't actually enjoy writing fiction and I have never enjoyed writing fiction. I resolved to concentrate instead on non-fiction.
Per the next page in the notebook, I see that I attended the live, in-person event "Point of View with Lori Rayder-Day" on Saturday, March 7, 2020.
Both of these were held in an event room about the size of a high school classroom in the basement of the Oakmont Carnegie Library. For each of these, maybe 20, or 30, or 40 of us sat at several long tables. I didn't pay much attention to the crowd size because I had no idea that these would be the last in-person meetings that I would attend for months or maybe years. Nobody at this event wore face masks because, at that time, public health officials told us that masks were not necessary and were actually harmful to the public good.
I don't think that I social distanced. i don't think that I even know what social distancing was on March 7, 2020. I tried to stop myself from sneezing at least once that afternoon.
Before "Point of View" began on March 7, an officer from the writing club that sponsored these presentations announced that she had just attended an official "Covid-19 Prevention Training" at her workplace. She asked if anybody in the room displayed Covid symptoms. She also asked if anybody in the room had just returned from Italy or China.
The, the "Point of View" seminar began.
During the course of this, I volunteered that William Faulkner used first person plural Point of View in "A Rose for Emily." I also gave away the spoiler for "A Rose for Emily." Oops! I maintain if you are enough of a glutton for punishment to put on real clothes and attend a "Point of View" workshop on a Saturday, then you already know that Emily kept her dead boyfriend's body in that bed with her for 40 years or whatever.
Pennsylvania's governor shut the commonwealth down due to Covid a little over a week later.
These were the last two writing workshops that I ever attended in person.
Next month, I am going to take a class about family memoir-writing over Zoom. I purchased the class reservation from a local bookstore that offers virtual writing workshops. The instructor also teaches nonfiction writing at a Pittsburgh university's MFA program. I already read, front-to-back, two of the books listed on the class syllabus. I am excited about this class and I might possibly blog about it. I might possibly write a family memoir about life in Western Pennsylvania.
Since you, dear reader, just put up with reading this, my next blog post will be about Pennsylvania history.
Here's my call to action: If you enjoy (or hate read) my blog, please share it with others would would also enjoy (or hate read) it.