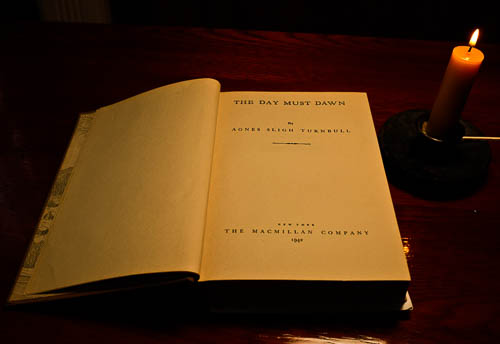 So, for a few years now, I've casually followed the efforts of local preservationists to purchase and restore the Old Stone Tavern, aka Elliott's, in Pittsburgh's West End. Daniel Elliott, or perhaps somebody else, built the tavern / inn during the late 1700's.
I took an interest in the tavern because it appeared in Agnes Sligh Turnbulls's historical fiction about late 1700's Western Pennsylvania. (Turnbull graduated from Indiana University of Pennsylvania and she wrote several books including The Day Must Dawn and The King's Orchard.)
In The King's Orchard, the protagonist, James O'Hara (an early Pittsburgh business leader and also philanthropist Mary Schenley's grandfather) lived for a while at Elliott's while he established himself as a fur trader. Also in Turnbull's fiction, the famous / infamous Colonel William Crawford and Simon Girty drank at a colonial Pittsburgh tavern that I believe may have been based on Elliott's. Daniel Elliott himself appeared in Turnbull's fiction.
Turnbull's historical fiction also referenced either a Pittsburgh innkeeper or Pittsburgh store owner named Sam Semple. I haven't yet figured out whether Semple's establishment later became Elliott's, or if these were two different operations.
I can't ask Turnbull about Sam Semple and his connection to Elliott's because she published The Day Must Dawn in 1942 and The King's Orchard in 1963. She passed away in 1982. She is buried in her hometown of New Alexandria, Pennsylvania.
Everything that I know about the preservation of Elliott's Tavern came from Wikipedia, the preservationist group's Facebook page, and the first articles that appeared when I Googled "old stone tavern Pittsburgh."
For instance, here is an article that appeared in Pittsburgh Magazine in December 2019:
Reviving History: The Fight for the Old Stone Tavern
The last post of the "Old Stone Tavern" Facebook page showed a February 2020 date. It detailed a fundraiser held that same month in order to raise money to purchase the building.
Less than a month after this Facebook posting and the fundraiser, Pennsylvania's governor shut Pennsylvania down due to Covid-19.
So, will Elliott's ever open as a tavern again? I wonder. If currently open restaurants struggle right now to stay open, who knows what will happen to a tavern that closed years ago?
I've never looked into becoming involved in the tavern preservation group's fundraising efforts. My husband and I have enough frustration trying to preserve our own 1890's house. For instance, this past weekend, Jonathan transplanted a baby Japanese maple tree that was growing into our house's foundation over to a different part of our yard, and the tree didn't get blown over in the next day's giant windstorm. This was a major accomplishment in our house restoration. I don't need to get my heart broken over a 1700's tavern.
That said, I've thought about Elliott's and compared it to what I know about the Jean Bonnet Tavern in Bedford. I've come to the conclusion that Elliott's needs to have its own ghost. Or ghosts. Or, at least, ghost stories.
I've heard that you can purchase "ghost in a bottle" kits on the internet. I think that these are all Caveat Emptor deals, though. What if the ghost that you ordered turned out to be a woman who had unpopular opinions about things?
On a more serious note, what if the ghost was one of the Native Americans slaughtered in the Gnadenhutten Massacre of 1782, or else one of the Native Americans who received a smallpox blanket from the soldiers at Fort Pitt?
You never know what you'll actually get when you order a ghost online. Also, a preservation group can't purchase ghosts for a building that it doesn't currently own.
Most of the articles that I read emphasized the tavern's role in colonial and very early American history. I read about more recent (1870's and Roaring Twenties) history that happened there; I'd love to blog more about that later.
Thanks for sticking by my side on this blog. I've blogged before about the tavern, but I owed you an American history post.
Stay healthy, and talk to you later.