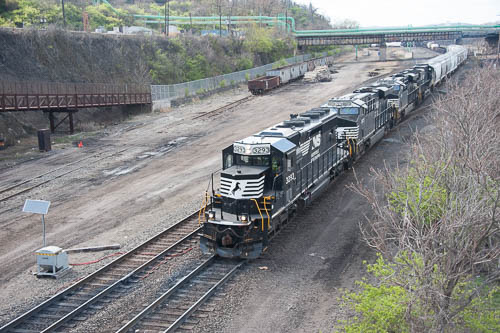 I lived in Johnstown, Pennsylvania, for a few years out of college. I graduated from high school in a tiny town about one hour south of Johnstown. After college, the very first job that I found that included health insurance was in Johnstown. So, I stayed there for a few years until I was able to find a much better paying job in downtown Pittsburgh.
I actually went to Johnstown about once a month each month or so while I was growing up. Johnstown had the closest mall and the closest new release bookstore. We couldn't order books off of Amazon because that's how old I am. So, my mom drove me to the bookstore in Johnstown every time that a new Baby-Sitters Club book came out. I was in my high school's marching band. We travelled to Johnstown to perform at football games and at the Halloween parade. My sixth grade class visited a bunch of the famous sites connected with the 1889 Johnstown Flood for our spring field trip. (You know – the site where the South Fork Dam burst, the flood museum in Johnstown, and of course, the cemetery where many of the flood's over two thousand victims were buried.)
This story isn't about all of the people who died in the Johnstown flood. This story is about ANOTHER calamity in Johnstown that killed a bunch of people in the 1800's. I just learned about this particular calamity this month. I think that this is because Johnstown has just experienced SO MANY tragic mishaps.
This story is bonkers.
Anyway, in 1865, the Civil War ended and John Wilkes Booth assassinated President of the United States Abraham Lincoln. Lincoln's Vice President, Andrew Johnson, became the new POTUS. Things did not go well for Andrew Johnson.
In 1866, Johnson took a "Swing Around the Circle" train trip. He was trying to convince people to like him better. In September 1866, Johnson's train stopped in Johnstown, between his route from Pittsburgh to Harrisburg.
Thousands of people showed up in Johnstown to see Johnson and the Civil War heroes whom he (allegedly) pressured to travel with him. Maintenance staff in Johnstown built a viewing platform over an old canal for the spectators.
Hundreds of people stood on the platform.
The platform collapsed. Many spectators fell about 20 feet.
Several spectators were killed.
The train moved on to the next stop WHILE THE RESCUE AND RECOVERY WERE STILL IN PROGRESS.
Now, I don't have the talent or the patience to write about Andrew Johnson. Especially not for a blog post here. Especially not on Thanksgiving Eve, while I have several shots of whiskey in me. That's why God created Wikipedia on the eighth day!
When I was a kid, I read a children's historical fiction novel about Andrew Johnson that I either found in a used book store or else I found in the back of a classroom. I think that it was called "The Tennessee Yankee" or else "The Yankee from Tennessee" or something. The book made Johnson out to be a hero. However, everything else that I ever read about Johnson after this pretty much called him a jerk. People are complicated. The American Civil War was complicated. Reconstruction was complicated.
I never had anything THIS exciting happen to me when I visited or lived in Johnstown. One of my co-workers from Johnstown told me that her ex-husband went to see Sting at the Johnstown War Memorial. Sting – ALLEGEDLY – performed so poorly that night that the crowd threw their beer bottles at him when he sang "Roxanne" for twenty or thirty minutes. So, that's an exciting thing that happened in Johnstown – to somebody else – during my lifetime.