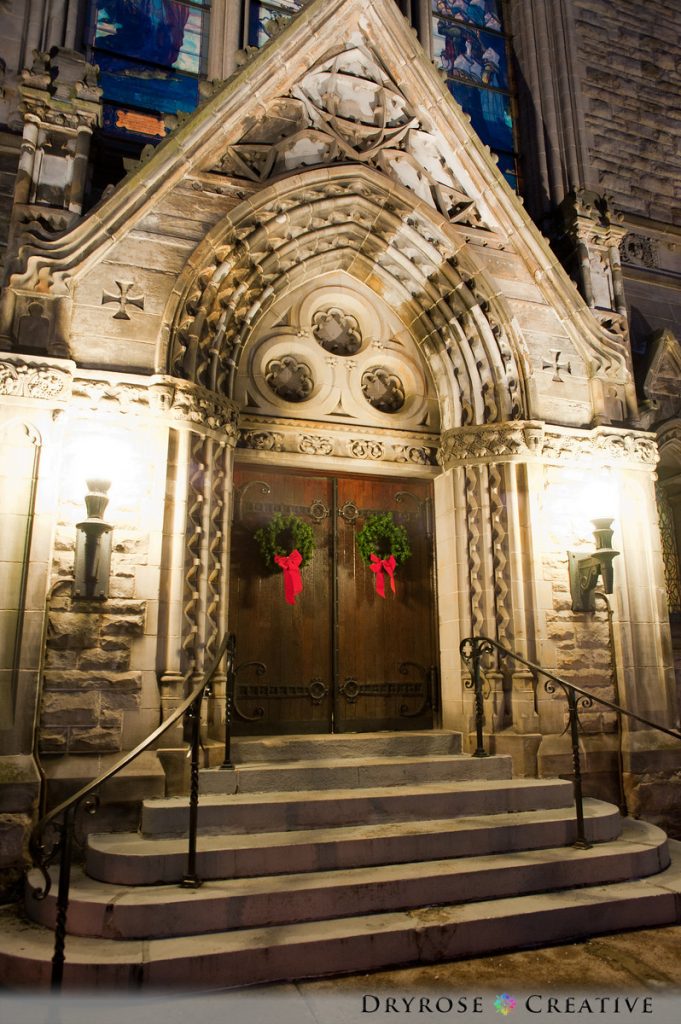 I intended to blog this month about the Revolutionary War soldiers from Western Pennsylvania who wintered at Valley Forge from 1777 – 1778. However, "Winter at Valley Forge" doesn't radiate sunshine and warmth. A lot of people that I love are pretty sad this month. Anyway, I don't think that I can tell you much that you can't just learn from a five second Google search.
Jonathan and I toured Valley Forge once. We watched the movie at the visitors' center that was basically footage from a 1977 re-enactment. (I could tell because the "soldiers" wore eyewear from the 1970's.) We walked around the entire National Historical Park. Jonathan photographed Washington's headquarters. Maybe next winter, I will post some of Jonathan's Valley Forge photos. My sister K. got married right down the road from it, so this is what we did before the rehearsal dinner.
In the meantime, if you really want to read about soldiers from Westmoreland County who served during the Revolutionary War, go read my blog post about Lochry's Defeat.
So, Christmas time always reminds me of the music programming at Berlin Brothersvalley School District. My four sisters and I all graduated from Berlin. The entire district consists of three buildings connected by a tunnel. The entire school district has one auditorium that everybody shares. My poor mom and dad sat in this auditorium every December for over three decades, watching their kids perform in various holiday concerts. Sometimes, they attended multiple concerts in the same month!
It's a really long story, but the school district's Christmas music programs in this auditorium began in either kindergarten or first grade. Then, all four of my sisters and I were in Christmas programs for either band or chorus for elementary, junior high, and high school. Keep in mind that there is a nine-year age gap between me and E., and a 13-year age gap between E. and O. So, I started elementary school over thirty years before my sister O. graduated from high school. That's how my parents got stuck sitting in Berlin's only auditorium every December, for over three decades. (This doesn't even count all of the spring concerts and musicals, and all of the hours and hours and hours that my parents spent watching K. and I perform in the high school marching band.)
The thing that makes me feel so guilty now is that I NEVER PRACTICED my clarinet on my own. I got away with this because my school was so small that the music teachers basically took every warm body that showed up for all of the rehearsals. I am so sorry that my parents had to sit through so many concerts (and football games and parades) in which I played the clarinet so poorly.
Remember when I said that my parents sometimes watched their kids appear in multiple performing arts events in the same month? Well, that's because all of the bands and choruses from the elementary, junior high, and high school each had their own separate events. Except for one December.
Berlin sits on top of a mountain in Somerset County. One winter, the weather was so bad all December that everybody's separate events got cancelled. Multiple ice storms or something.
So, Berlin Brothersvalley School District combined all of the rescheduled holiday music programming (band AND chorus) from grades 4-12 all together on one special evening! Seriously. The entire combined holiday concert was four or five hours long. I wish that I was making this up. I'm not.
Well, what do you think happens when you fit an entire school district's worth of families into one auditorium to watch every single band and chorus student from grades 4-12 perform? Do you think that the entire audience sits there quietly? Do you think that the audience stays for every single musical group's entire performance? Do you think that audience members who do need to cut out early take care to be quiet in the hallway?
If this were the game show Jeopardy!, I would say, "What is none of the above, Alex?"
My high school band director, Mr. B., was PISSED that this entire school district's worth of families in grades 4-12 did not sit quietly for the five hour Christmas Concert from Hell.
Mr. B was so upset that on the very next school day, he made the entire high school concert band get into groups and brainstorm lists of concert etiquette. Then, he made all of the groups get together and compile one master list of concert etiquette.
Then, at the beginning of every single performing arts event held at Berlin for the rest of my high school career, a student had to come up on stage and read our master list of concert etiquette to the audience.
Mr. B. also made sure that our master list of concert etiquette was printed inside every paper program for every musical event held at Berlin.
Years after I graduated from high school, I returned to the school to watch a musical in which one of my younger sisters performed. The master list of concert etiquette that I helped to compile after the Christmas Concert from Hell appeared at the very front of that event's program.
Now, I can't even go to see something at the Benedum without mentally tsk-tsking whenever I see or hear somebody violating the giant list of concert etiquette that Mr. B. made us create. For instance, one time I went to see the muscial RENT. The woman sitting next to me pulled a sandwich out of her enormous purse and ate it in the middle of the show while the lights were down and people were singing. At the Benedum. The place with the $100+ tickets. (Disclaimer: Maybe she had blood sugar issues. Who am I to judge.)
The concert etiquette disaster at the Christmas Concert from Hell happened long before everybody and their dog owned smartphones. So, maybe the audience's behavior would have been even worse if the Christmas Concert from Hell had happened (pre-Covid) in 2019.
At the time, I thought that Mr. B. made us band members write the giant list of concert etiquette in order to teach all of us kids a lesson. Now, looking back, I think that the concert etiquette list was directed at the parents, at all of the adults who didn't set a good example that night.
(But also: a four-or-five-hour concert, featuring every music student from grades 4-12? Really?)
I can't wait until the Covid crisis ends so that I can go back to judging other people's concert etiquette behavior at live performances. In the meantime, I sit here and think about the Christmas Concert from Hell. Those days were the good old days.