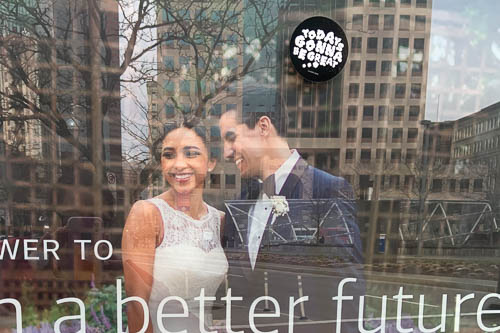 I looked through my laptop for photos that will cheer you.
I found this photo, saved in my Lightroom folder on May 10, 2019. I think that I actually took the photo earlier that spring on my smartphone.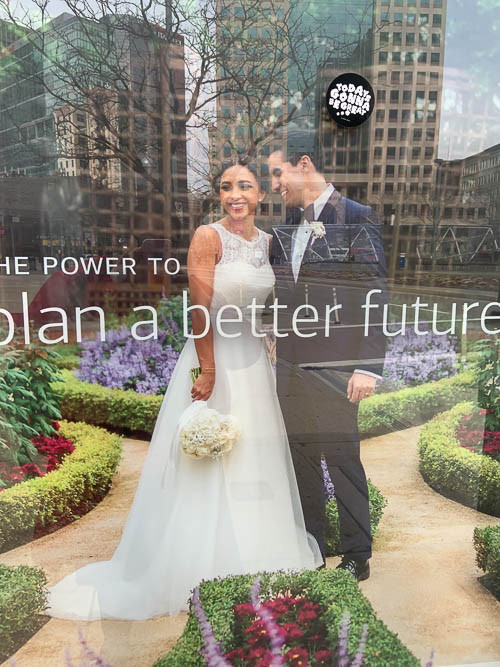 In the pre-Covid days, on most days, I waited in front of one of the Gateway Center buildings to catch a bus home from Pittsburgh to New Kensington.
In the spring of 2019, the bus shelter at my bus stop featured an advertisement for weddings at Phipps Conservatory. This ad featured a couple dressed as a bride and a groom, standing in one of Phipps' exhibit rooms. The copy on this ad read as follows: "THE POWER TO plan a better future."
Above the photo of the "groom," somebody put a sticker on the bus shelter glass that said, "Todays [SIC] gonna be great." I assume that whoever placed the sticker on this glass intended for it to look like a thought bubble from the groom.
I snapped a photo of the bus shelter with the Phipps ad and the comical sticker placement so that I could text it to my husband and his family. I thought that they would all get a kick out of it. Later, I realized that I could see reflected in this same glass the building where I worked. So, I kept the photo saved on my laptop.
I don't know anything about the photographer who took the original photo for the Phipps advertisement, or about the advertising firm that created the copy.
I actually majored in Advertising and Public Relations in college. I ended up working in the Property and Casualty insurance industry because that was where I found my first post-Walmart, post-Americorps job. However, from what I understand per my school's alumni magazine, some of my classmates pursued actual advertising careers in Pittsburgh. So, maybe one of my former classmates worked on this ad campaign.
Let me tell you about this bus shelter. When I waited for my bus home, I faced the far west part of Liberty Ave. This bus shelter stood on my left. If I were to walk past this bus shelter, I would reach Point State Park. If I followed the path in Point State Park that leads to The Point, I would walk past the footprint of Fort Pitt and eventually reach the actual point where the Monongahela and Allegheny Rivers join to form the Ohio River. This used to be considered as the "Gateway to the West" before St. Louis became the Gateway to the West. In fact, you could boat from Pittsburgh's Gateway to the West until you reached St. Louis' Gateway to the West. Lots of people, some famous and some forgotten, actually did this. Pittsburgh's Gateway to the West is a very short walk from the Gateway Center bus shelter where I waited every day for my bus home to New Kensington.
So, when I waited at the Gateway Center bus shelter, I had Gateway Center buildings both in front of and behind me. If you look at the bus shelter that I posted, you can see the Gateway Center T station. (The "T" stands for "train." This is part of the city's light rail system.)
One time, I stood directly across Liberty Avenue from the site of this photo, and I heard "Jenny, Jenny." It was my aunt – my mom's sister – and my cousin. They were in town for the Three Rivers Arts Festival. We hadn't planned to meet up. They had no idea that I worked across the street from this bus station.
Another time, I stood across the street from the scene of this photo and I ran into a cousin from my father's side of the family. It turned out that her favorite coffee stand was located in the same building where I worked.
I haven't been to this bus station, or this block, or this downtown since Covid changed everybody's life.
I used to visit Phipps Conservatory several times a year. I haven't been there, either, since Covid changed everything. My last trip to Phipps occurred in January or February 2020. That time, I laid on the floor to take a photo of an exhibit hanging from the ceiling. Then, I tried not to grasp the handrail when I walked the stairs down to the ground floor, even though I actually needed it. How many germs did it hold? I had just recovered from some mystery bug that had kept me sick and coughing for the past month. Weird. Looking back, I probably shouldn't have laid on the floor that day.
Thank you for reading this blog. Todays [SIC] gonna be great.