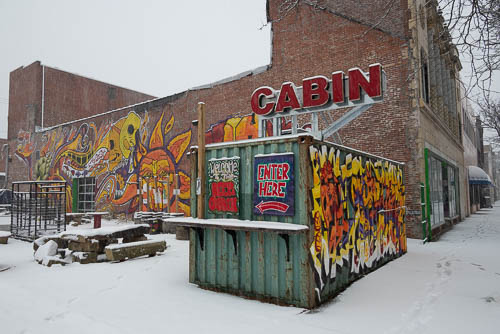 I joked in a prior post that Krampus brought me a new camera for Krampusnacht.
In reality, I received a new camera for Christmas. The camera arrived on Krampusnacht. I tested it today during our first snowstorm of the winter.
I actually took these photos several hours ago. We have even more snow right now. The snow is still falling.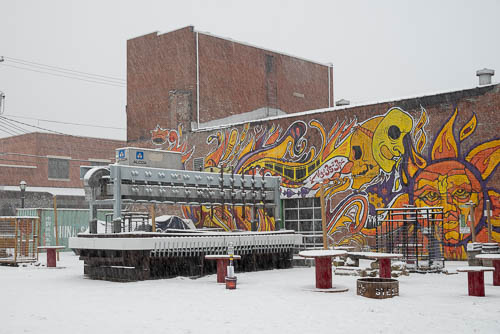 You should see above a photo of the Alcoa aluminum smelter that now sits in Voodoo Brewery's beer garden in New Kensington.
This relic sat for decades at Station Square in Pittsburgh. (Station Square is a dining and shopping district along the Monongahela River, directly across said river from downtown Pittsburgh.)
The property owner at Station Square no longer wanted it.
Now, Alcoa actually plays a role in New Kensington's history. HUGE role.
So, a month ago, crews moved this smelter 20 miles to the beer garden on Fifth Avenue, New Kensington.
Pittsburgh's loss. Our gain.
Here's an article from the Trib about the Alcoa smelter if you want to read more about it.
To be honest, I have eaten out at Station Square many times. I went there for boat trips on the river when I was in high school. This smelter actually stood next to the dock that we used for these trips. I don't remember EVER seeing the smelter during my trips to Station Square. I'm sure that this was because Station Square just had so much other things to see. Also, because back in the olden days, I wouldn't have actually cared about an Alcoa smelter. I never had any interest in industrial history when when I was high school. (The only reason that I remembered Henry Clay Frick was because Emma Goldman's boyfriend shot him during the Homestead riots.) I never cared about Alcoa until I met Jonathan Woytek and he brought me to New Kensington.
Now that this smelter sits down the street from my house, I am sure that I will have plenty of opportunities to check out the smelter as I sip on my Voodoo beer. Maybe take a few selfies in front of it.
Not now, of course. We are living through a snowstorm and also a global pandemic. But soon.