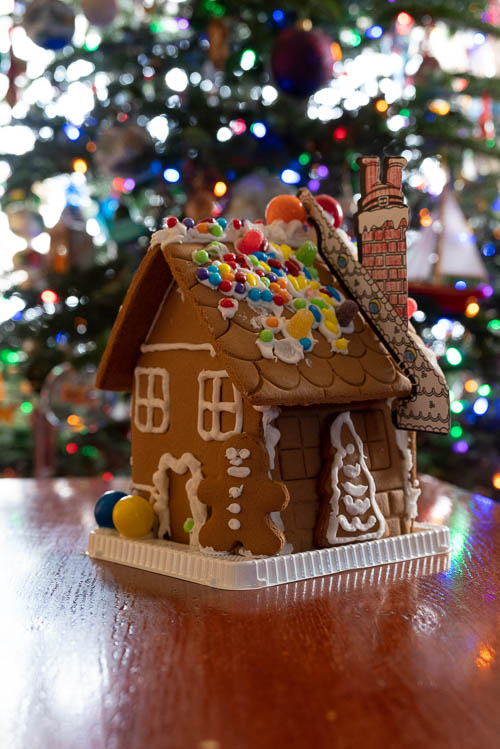 I work in downtown Pittsburgh. (Well, I haven't actually been to the office since March. But, I still get taxed as if I work in Pittsburgh.) Part of my team works out of downtown Philadelphia. I have several managers, and one of my managers works out of Philadelphia. In "normal" years, we have separate holiday parties.
However, this year, my employer didn't host in-person holiday parties anywhere. So, for this year's holiday party, my Philadelphia manager had gingerbread house kits shipped to everybody's houses. We assembled our gingerbread houses ahead of time. Then, we decorated them together over video conferencing. (I didn't say "over Zoom," because my employer uses a Zoom competitor. We're not permitted to install Zoom on company-issued machines.)
The kits that my manager ordered listed "Age 3 and Up." I personally found the house pretty easy to assemble by myself. However, my house has some structural deficiencies. A load bearing wall is visibly leaning in the above photo. So, maybe you shouldn't take my word for it. I'm not confident that my gingerbread house is "up to code."
I had a lot of fun with this. I only got my gingerbread house partially decorated during the "party." Jonathan actually finished decorating the house for me after I let the unfinished house sit around for a week.
Jonathan and I might purchase the same kit and do another house together, next year. This might even be fun to do over Zoom with my sisters.
You hear that, sisters?