We drove to Pennsylvania's Ohiopyle State Park today for a short walk.
Ohiopyle State Park sits on the Youghiogheny River. There is a story of some historical significance from the 1750's involving George Washington as a young British officer. This blog post is supposed to be about a cat, though, so I won't bother telling the George Washington story. You can Google it.
Ohiopyle features several rapids and waterfalls. I myself have gone whitewater rafting on the Youghigheny River ("the Yough") at Ohiopyle. I shared a raft with a girl who wore her contact lens on the trip. After each time that we fell out of our raft into the water, she panicked that she had lost her contacts. She kept asking her boyfriend to check to see if her contacts were still in her eyes.
(I don't have room to make fun of this girl. I once went white water rafting on the Cheat River in West Virginia in April. I wore my glasses instead of my contacts. I fell out of the raft several times, and on the rapids known as the Big Nasty (or maybe it was the rapids known as the Coliseum), my glasses swam off of my face. I grabbed them, but I lost one of the lenses out of them.)
The bicycle and walking trail known as the Great Allegheny Passage (GAP) runs through Ohiopyle State Park. The Ohiopyle trailhead and restroom is actually right across the road from the main falls and almost right next to the Falls Market. (More on the Falls Market in a little bit.) I have personally biked to the Ohiopyle trailhead from the trailheads in both directions. However, this blog post is about a cat, so I will write about the GAP some other time.
We did not visit Cucumber Falls because the Cucumber Falls parking lot was completely packed when we drove past it. Not only that, but there was a truck sitting in the parking lot entrance with its engine running, waiting for a parking spot to open up. There was no place to (safely) park alongside the road. Finally, we realized that even if we were to snag a parking spot, we would have a very difficult time trying to social distance on the narrow trail that leads from the parking lot down to the bottom of Cucumber Falls.
So, no Cucumber Falls for us today.
We did visit the main waterfalls, though. I took the above photo with my new camera.
The Cat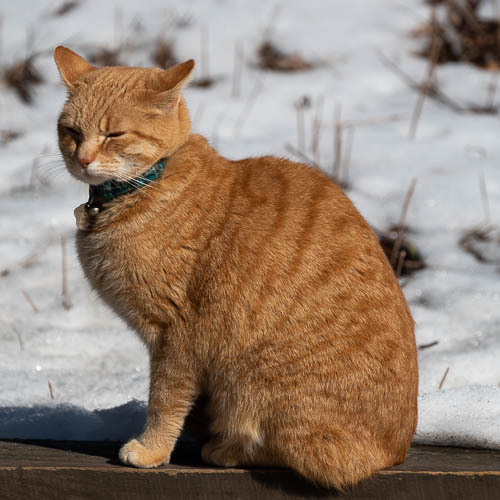 When we were at the main falls, an orange cat came over and sat down on a retaining wall in front of us. Next to the snow.
Jonathan petted the cat and read the tag on the cat's collar.
The tag said:
I am Tonto. I live here.
We said hello to Tonto.
Then, after we both backed away from Tonto, some other people came over and said hello to Tonto.
Tonto stretched.
Tonto sat in the sun for a few more minutes.
Then, Tonto ran off.
So, I Googled "ohiopyle" and "cat."
Almost everything that I found on my Google search was hidden by some media website's paywall. Some of these paywalls had "free trials" if I gave them my email address and agreed to let them spam me until the end of my days. Still, I didn't feel like putting forth any extra effort to get behind any of these paywalls.
So, I learned from the non-paywall content that Tonto was one of several cat siblings that a heartless person dumped on the grounds of Ohiopyle State Park.
The owners of Falls Market Restaurant & Inn adopted Tonto.
Falls Market sits directly across the road from the main falls at Ohiopyle. Tonto likes to cross the road and visit the falls. Tonto is quite social and he poses for photos.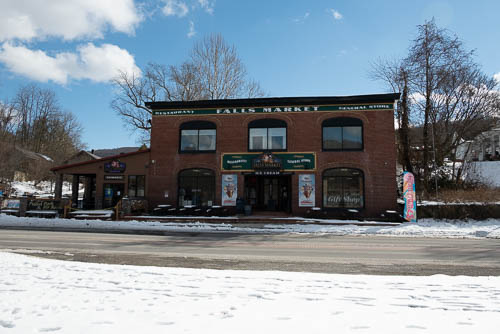 The Facebook page for Falls Market Restaurant & Inn asks viewers to post photos if they have the opportunity to meet Tonto.
So, I posted this above photo that Jonathan took of Tonto.
Nice to meet you, Tonto.