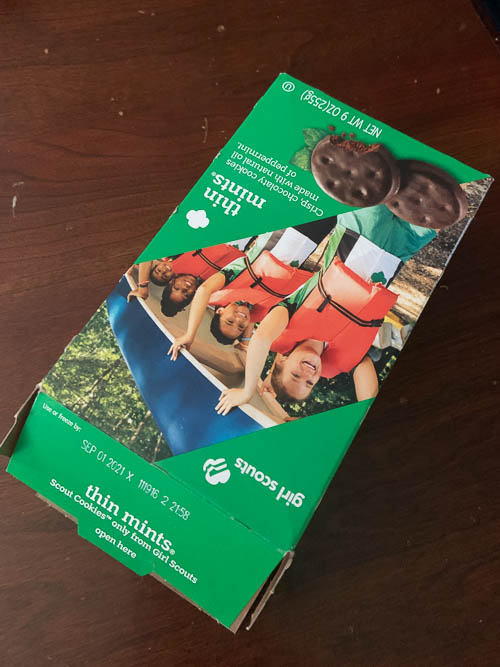 My niece is selling Girl Scout cookies right now. I ate an entire box of thin mints by myself this past week. That's not my real confession today, though.
I was a Girl Scout for years. My school district didn't have a Girl Scout troop for high school kids, which is pretty much why I stopped being a Girl Scout. (That's okay, though, because I was busy with marching band by then.)
Anyway, I attended two different Girl Scout camps: Maple Valley Girl Scout Day Camp in Meyersdale, and Camp Conshatawba in Summerhill. I also went cabin camping with my Girl Scout troop at a state park. I was kind of a brat at all three of these places.
(See my post on my other blog about the Girl Scout Mother's Day cabin cooking adventure. Apparently, I had a real problem with learning to not talk about other people behind their backs.)
The Maple Valley camp was actually held at a public park (Maple Valley Park) in a wooded area outside of Meyersdale. The park had a swimming pool open to the public back then. The Girl Scouts only occupied one section of the park for one week each year. The Boy Scouts had their own week and their own camp at this same section of this park.
The Maple Valley Girl Scout Day Camp was held one week in August from Monday – Friday. A school bus picked us up in Berlin each day, and took us the ten miles to Meyersdale. Other Girl Scouts from all over Somerset County also attended this camp with us.
Once we arrived at camp, we were assigned to a temporary Girl Scout "troop" and we did most of our activities with that troop all week. The troop usually included other girls around our same age who attended our same school, if possible. (So, our "troops" often included the same girls who belonged to our "school year" Girl Scout troop.)
We went swimming each day if the teenaged lifeguards who supervised Maple Valley's public pool didn't hear thunder.
We sang songs when the camp leaders wanted to keep us busy and tire us out.
We learned how to prepare food in the woods so that we could camp by ourselves and still be able to eat. One time, we mixed up instant pudding in plastic resealable bags just in case we needed to make pudding and didn't have any spoons or bowls or something. One of the plastic bags burst all over one girl's jeans. In my adult life, I have never mixed up food in a plastic resealable bag, even when I was in the woods. I think that my Girl Scout camp experience turned me off from ever preparing food in plastic bags.
We played in the small creek that ran through Maple Valley Park. Then, one day, a camp leader approached our "troop" and told us that we couldn't play in the creek any more because one of the other "troops" just saw a snake in the creek. Looking back, I think that it's just a pretty good decision to not let large groups of pre-teen kids play in creeks that aren't pre-inspected for broken beer bottles and discarded fishing hooks. (That's actually how my sister K. later cut her foot one time when she was on a trip with just me and our dad.) Also, I have feared snakes my entire life. (In fact, my dad kept me out of his woodshed and also the upper loft of our garage for DECADES by telling me that snakes lived there.) However, on this particular stint at Girl Scout camp, I was PISSED that an adult told me that I couldn't play in a creek "merely" because somebody saw a snake. I was convinced (with absolutely no basis for my reasoning) that the Boy Scouts were totally allowed to play in the creek, and that I was only told to not play in the creek because I was a Girl Scout.
The "snake incident" is not my real confession, either.
Despite its name, the oldest kids at Maple Valley Girl Scout Day Camp actually camped at the park on Thursday night into Friday morning.
We had to "put up our own tents," even though I am pretty sure that the adults did most of the real work.
Looking back, I wonder how much "fun" the adults had with this.
Anyway, one year, I was in the same "troop" as a girl that I shall call Padmé.
Now, Padmé and I were both from Berlin. We went to the same school and she and I had been in the same "school year" Girl Scout troop. However, Padmé was actually a grade level above me in our school. Our "school year" Girl Scout troop had thirty other girls in it. Padmé and I were not really friends during the school year.
However, during that week at Girl Scout camp, Padmé and I became best buddies.
On Thursday night, Padmé told me that I could "sleep on one of her pillows."
Guys, this was all pre-Covid.
Also, just for the record, I did bring my own pillow.
However, I accepted Padmé's offer. I slept on one of her pillows that night.
However, I also fell asleep that night with chewing gum in my mouth.
I woke up the next morning to discover that my chewing gum now covered one side of Padmé's pillow.
I picked some of the gum off of Padmé's pillow. The rest of the gum stayed on Padmé's pillow.
I chose not to cop to Padmé about getting gum on her pillow. When I returned her pillow, I turned the "gum side" so that it faced away from her.
We said our good-byes. I stared at the gum side of her pillow.
I don't think that Padmé and I ever had another conversation . As I said above, she was a grade ahead of me in school. I don't think that we were together in Girl Scouts again. Years later, I saw her often in the hallway of our high school. I don't think that we were in any of the same high school activities.
I wondered now long it took Padmé to see the gum.
I wondered now much trouble she got into with her mom.
I don't think that I ever again fell asleep with gum in my mouth.