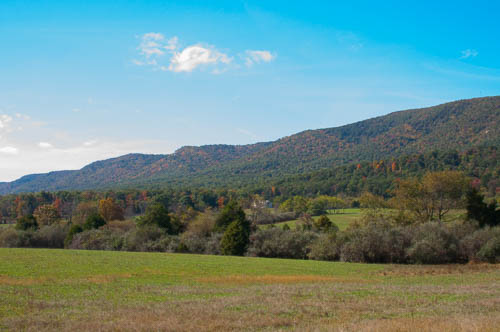 I've blogged in the past about Simon Girty. I don't feel like linking everything that I've ever wrote about him. I created "Girty" as a new category on this blog tonight, so you can just click on this to see what I wrote.
So, I mentioned before that the Pennsylvania Historical & Museum Commission installed a marker along the Susquehanna River to note Girty's birthplace near Harrisburg. I actually Googled the distance between Girty's birthplace and my very first childhood home in Perry County, Pennsylvania. Turns out that I spent the first seven years of my life only ten or twenty miles from Girty's birthplace. We both started out in Central PA and then went on to have new adventures on the OTHER side of the Allegheny Mountains.
I'm a Central PA native because of economics. Both of my parents grew up in the Greater Pittsburgh area. (My mom grew up in Carrick.) My dad's first teaching job out of college came from rural Perry County. So, he moved there a month before their wedding. Mom moved to Perry County the weekend that my parents got married.
I mean, if you want to get technical about it, the Girty family and all of their fellow colonial settlers of European descent lived in what became of Perry County due to economics, too. They moved into the already-occupied lands along the Susquehanna. They struggled with the indigenous people who already called dibs on that whole place. Girty grew up to see the the non-European point of view on this whole mess. If you want to get even more technical, this land around the Susquehanna wasn't Perry County back then. The county was later named after the War of 1812 hero Oliver Hazard Perry. Girty was born in the early 1700's. He was an old man taking refuge with the British when the War of 1812 happened. (Though, I just found out through a Google search that Simon Girty only preceded Oliver Hazard Perry in death by a year and a half. Girty died old. Perry died young. So, I guess that nobody wins in the end? Except for me. I made out well because my husband just made me fresh stove-popped popcorn to eat as I write this.)
I should have warned you about tonight's history dump. That way, you could have closed out this post to go read a Reddit message board about vaccine shaming or about that physical fight that happened last weekend at a Bath & Body Works store.
Anyway, I spent the first seven years of my live in a pretty rural town in Perry County, near the farm where Simon Girty was born in the 1700's. I wasn't born in the 1700's, but some days I feel as if I am indeed that old. "My first hometown" in Perry County was so tiny that it made my "second hometown" in Somerset County seem like a regular little city.
For instance, back in the Perry County days, we lived next to the town's elementary school. (The high school was twenty miles away.) It was still light outside when I feel asleep each night in the summer. I fell asleep looking out of the window at cows in a field on a mountain. The other thing that I saw on that mountain each summer night were trees with no leaves or dead leaves. (The area had a gypsy moth infestation in the local forests.) The town itself was only about one mile long or so. I walked and biked the entire length of it many times before we moved away.
An Amish community farmed in the area. Some of these Amish were teenagers. Some of these Amish teenagers hung out with the teenagers who lived next to us. These teenagers all drove around in a car meant to emulate the jalopy known as the "General Lee" from the television show "The Dukes of Hazzard." That is, the neighbor's car played the song "Dixie" just like the car in the TV show did. Also, the neighbor's car was orange and I think that it had Confederate battle flags on each side, just like the "General Lee" did.
We all had huge backyards. The neighbor's teenagers allegedly grew weed in their backyard garden, according to my mom. One day, a Pennsylvania State Police helicopter flew low over our little neighborhood in our little rural town.
So, back to the house that became my first childhood home. My parents bought it shortly before I was born. It was an old house. It was a fixer-upper. (I keep ending up living in fixer-uppers in interesting neighborhoods. Story of my life.) Also, somebody was electrocuted on the power lines. Whoever this poor man was, he died right in front of the house. This happened before my parents bought the place. This was all before The Internet happened to us, by the way. Google didn't exist. After my parents moved into their new home in their little town in Perry County, the neighbors came over and told my parents all about the terrible accident. Caveat emptor!
So, my parents told us kids this story about the electrical accident after we had moved away and we were all adults. And one of my siblings said,
"I used to hear a man's voice calling out when we lived there. I used to call back "Dad, is that you?" I thought that it was Dad. Except, Dad was at work when this happened."
This particular sibling was five years old when we moved away from the house.
And that's how I found out that my first childhood home was haunted.