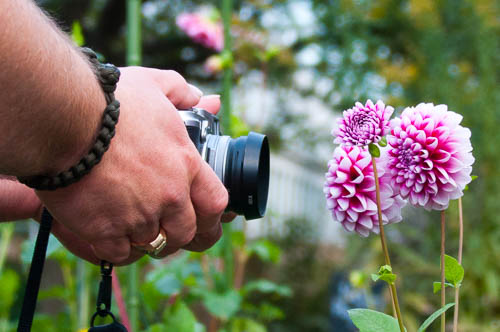 I enjoy spending significant amounts of time in pursuit of a skill that other people had already written me off as unable to learn.
I'm talking about photography here.
Just as a background, I have a strabismus. I can't see out of both of my eyes at the same time. I don't remember ever being able to see out of both of my eyes at the same time, so perhaps I was born this way. I don't know. However, in kindergarten or the first grade, I had a lot of trouble learning how to read. We had to sit at tables with other kids in our class, and take turns trying to read words. Then, we all got moved to tables based on which words we could read.
I got moved to the table with all of the rest of the kids who couldn't read any of the words.
I resented my classmates who were moved to the tables with the kids who COULD read words. I thought, "Oh, hey, I bet that they think that they are better than me!"
Then, when the teacher tried to teach me how to read, I got pounding headaches. I got sent home on more than one instance due to my headaches.
My mom took me to my very first of many eye doctor appointments. The doctor determined that I had trouble with my vision.
(One time that I was in college, I told this story to some of my friends. They told me that this was the plot of a "Little House on the Prairie" television episode. Well, that may have been the case, but it also happened to me in real life.)
At the age of six, I ended up with my first pair of bifocals. At this point in my life, my mom also drove me an hour or so on several occasions to that I could visit a specialist in regards to my strabismus. Since we lived in the middle of nowhere, these visits to the specialist were a major trip for me. During each visit, I had to do eye exercises that involved trying to focus on an object tied to a string.
(I know a lot of parents who brag that their four-year-old child can read. If you are one of those parents, good for you! I could NOT read when I was four years old. When I was six, I had to sit at the table with all of the other kids who couldn't read. And look how I ended up. Tomorr0w – March 18 – is the third year anniversary of my blog here.)
I've seen it suggested on the internet that Hitler and various serial killers such as H.H. Holmes had strabismuses. (Strabismi?) Well, I have one as well, and I haven't killed anybody yet.
(Also, in the past five years, I visited a new optometrist AND a new PCP, and they both asked me whether I could actually see out of both eyes. Then I had to explain to both of them that I visited a specialist for my strabismus when I was younger, but that I still can't see out of both of my eyes at the same time, and I have to switch back and forth.)
I mention all of this because I still struggle with my depth perception.
I mean, I can drive a car and dress myself. However, my depth perception issues frustrate me in learning new skills such as, you know, photography.
So, I didn't really learn much about photography when I was a kid because I'm old and there was a larger barrier to entry back then in regards to equipment and technology. Smartphone with cameras weren't a thing. Neither were DSLR's. We had point-and-shoot cameras that required film in our house. However, my parents had four kids at that time. (It was later five kids because my youngest sibling was born when I was in college.) Camera film was expensive, and so was the cost of having photos developed. So, for instance, if I wasted an entire roll of film trying to photograph an inanimate object in an artsy way and then my mom paid to have the film developed, she wasn't very happy to get the photos back from the developer and discover that an entire package of newly developed photos were just of the sky or a tree or a building. If I wanted to take a photo, it should be of a person or people, and they should be photographed head-on as they posed.
I had access to ONE film camera that wasn't a point-and-shoot when I was in high school. It was the camera that belonged to the school newspaper, and I wrote for the school newspaper in 12th grade. However, I didn't understand how any of the settings worked on this camera, so I happily passed all of the photography duties off on a classmate who actually knew how to use the camera.
So, anyway, fast-forward to my years at Saint Vincent College. I switched my major from accounting to Communication Arts, but my heart wasn't in it because multiple people had made it very clear to me that I was destined to work at Wal-Mart for the rest of my life. (I DID work at Wal-Mart after college – for three months! Then, I moved on to something else. I ended up finding better-paying jobs. Majoring in something "unworthy" is NOT a moral failing that automatically consigns one to a lifetime of being a Victorian chimney sweep or something.)
So, my heart wasn't really in my Communications classes because multiple people told me that I wouldn't be able to succeed in the field. Saint Vincent College's poor quality video equipment also frustrated me.
Looking back, I'm sure that my history of depth perception problems also caused me trouble with the one or two college video classes that I took. This didn't occur to me at that time, though. I got B's in video production, and I was more than happy to just take my B's and just forget about the shame that I felt at struggling with all of it.
Anyway, for my final semester in college, I took my only still photography college class, which was called "Photojournalism" and was cross listed in the course catalogue for both Communications and English. It was required for my degree program. I had to pass this course in order to graduate. I didn't have any background in still photography and the only camera that I owned at that time was a point-and-shoot. I didn't understand still photography or camera use very well. I felt that the instructor was frustrated with me the entire time. I honestly worried all semester that I would fail the class and that I would not be allowed to graduate or walk at the end of the semester.
I finished this photography class with a B. I'm not at all sure how I got a B in the class. My final project was total crap. I think that the instructor just wanted to get me out of his hair.
So, as a result of these college experiences, I left school with a very bad taste in my mouth for video and still photography.
I ended up working in the financial services industry instead. I didn't do anything creative for several years after college because I was made to understand that creativity didn't pay the bills. And the people who told me this were right to tell me this. I still work in financial services. I can afford camera and blogging equipment now because I work in financial services.
I eventually met and married Jonathan Woytek. Jonathan enjoyed photography when he was in high school and college. He took photos for his high school yearbook. He drifted away from it. Then, on the way to our honeymoon in South Carolina, we drove off of the interstate at a very specific shopping center in North Carolina because Jonathan had learned that this shopping center included a very specific camera store. You see, Jonathan's Best Man gave him wedding gift money specifically to use for the purchase of a new camera. Jonathan bought that camera on the way to our honeymoon.
Jonathan restarted his own love for photography.
A few years after this, I became interested in blogging. I told Jonathan that one of the things that I didn't like about other people's blogs were poor quality photos. Jonathan told me that if I wanted to create a decent blog myself, then I would have to learn how to create my own photos for it.
Then, Jonathan spent hours giving me photography lessons. We had to start pretty much from scratch because I had such a bad taste in my mouth with my prior experience trying to do photography. I cried more than once when Jonathan tried to get me to understand such concepts as Depth of Field.
Now, I might not be the best photographer in New Kensington or even in my own household. However, I consider it to be a very big accomplishment for me to go from "I don't think that I am going to graduate from college because I can't figure out this photography thing and I can tell that the instructor hates having to explain things to me," to this: Last summer, my dad's neighbor got socially-distanced married, and I took a photo of the bridal party's socially-distanced car parade as it drove through my rural hometown. I emailed the photo to my aunt because she went to the same church as the bride, and a few weeks after this, I learned that MY photo had appeared in my childhood home county's only daily newspaper as a "Photo of the Week." Somebody had decided that MY photo was good enough to forward on to my childhood hometown newspaper.
Now, I mentioned that in the past, one of my barriers to entry to photography was my lack of equipment and technology. I have a lot more resources now. Heck, I use a program called Lightroom to straighten every single photo that I take because all of my photos are crooked when they come off of my camera's memory card. (See above re: strabismus.) But I would argue that it's pretty snobby to suggest that I shouldn't enjoy or work on a discipline just because I need specific equipment in order to do it now. Ever since the 1800's, photographers have taken advantage of the most high tech equipment to which they personally had access at that time.
I say all this, because I was thinking about all of the times in my life when I have observed people shutting other people down in particular disciplines. I thought about all of the times when somebody told me that I "wasn't any good" at a skill, so I stopped trying to be good at the skill. I thought of the times when I observed the same thing happening to other people.
Heck, I STILL remember that time when I was six years and I had to go sit at the table with all of the other kids who couldn't read. This ceased to be a problem shortly after I got my first pair of glasses. So, now I feel terrible if I ever made any of my classmates feel this same way. I hope that I didn't shut down any of my classmates for trying to get better at school themselves.
I wrote this post because I wanted to share my experience about how I believed for YEARS that I was really terrible at a particular discipline, and that I would never improve at it, but now that I have fewer barriers to entry, I really enjoy this discipline as a hobby. I will probably never make a living doing photography. However, photography and blogging (and going on long walks to find things to blog and write about) significantly helped me get through my mom's death in 2018 and also the past year of Covid-19 stress.
Happy third-year blog anniversary to me.