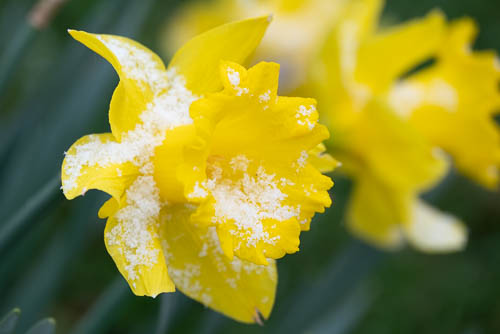 Happy April Fools' Day in Parnassus, Pennsylvania.
My husband, Jonathan, and I usually visit Phipps Conservatory and Botanical Gardens in Pittsburgh a few days prior to Easter (so, during Holy Week). We visit – and photograph – the annual Spring Flower Show.
We didn't do this during Spring 2020 because Phipps held no Spring Flower Show that year.
As of today – April 1, 2021 – I haven't yet received a Covid-19 vaccine in the lovely Commonwealth of Pennsylvania, due to circumstances beyond my control.
For this reason and others surrounding this Global Pandemic, my husband and I decided to skip the 2021 Spring Flower Show at Phipps.
Today, on April 1 – April Fools' Day – snow fell on my neighborhood of Parnassus. Snow accumulated on the ground – and also on the spring flowers.
So, I photographed the snow-covered Spring Flower Show in my own neighborhood.
Happy April Fools' Day!