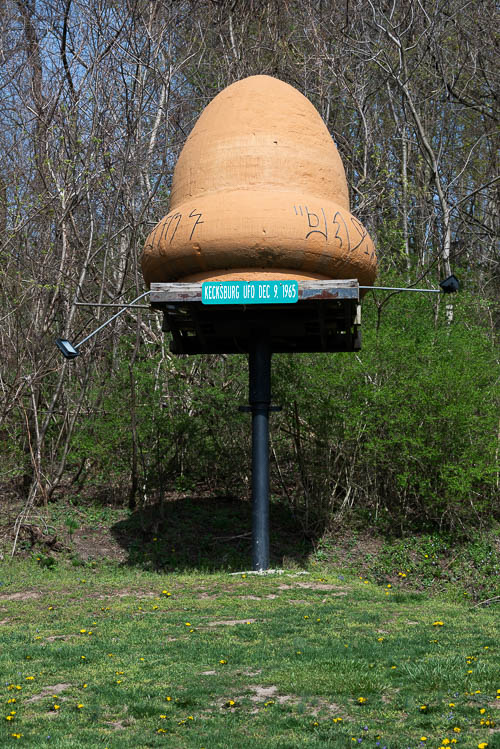 I watched a lot of the original series of Unsolved Mysteries this past winter. (This is in reference to the original episodes hosted by Robert Stack.) These are currently available to watch for no additional charge on Amazon with an Amazon Prime membership.
The Unsolved Mysteries episode that covered the Kecksburg, Pennsylvania, UFO is Season #3, Episode 1. It first aired on September 19, 1990.
I remember watching this episode when it aired on network television.
I was so excited because the turnoff for Kecksburg was midway on the trip from our house in Berlin, Pennsylvania (Somerset County) to my grandma's house in Irwin. So, Unsolved Mysteries finally visited "my" neck of the woods. Sort of.
(Kecksburg is located near Mount Pleasant, and I still get excited when I see the road sign for Kecksburg when I drive from New Kensington to the house where I grew up.)
Anyway, I now live in New Kensington and part of my family still lives in Berlin. I drive through Mount Pleasant on Route 31 on my trips to Berlin. The established route bores me sometimes. So, when the weather is nice, I take various "scenic routes."
Yesterday, I drove to Berlin and I chose a scenic route that took me through Kecksburg. Except, I took a wrong turn at an intersection in Kecksburg. I pulled into a parking lot to check my directions.
I thought, "Doesn't Kecksburg have some sort of monument to the UFO incident? Maybe I should see if I can find it."
So, I searched for the Kecksburg UFO monument on my phone. It turned out that the UFO monument was actually a 4 minute walk DIRECTLY BEHIND ME.
As in, if I had gotten out of my car and turned around, I would have seen the monument in the distance.
So, I drove over the the monument and snapped this photo.
I learned that locals refer to this momument as "The Acorn."
Here is a newspaper article from the Trib about this monument.
As part of this detour through Kecksburg, I drove on Clay Pike Road. I first tried out this scenic route last fall. The trip is gorgeous in good weather but especially in the fall. I highly recommend it.