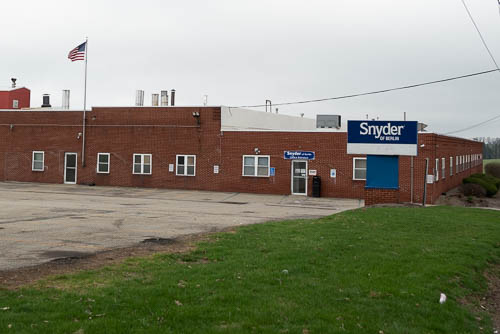 Snyder of Berlin potato chips are named after Berlin, Pennsylvania.
I know that several other plants now also make snacks under the Snyder of Berlin label.
However, I grew up in the town after which the chips are named. I went to school for a decade down the street from the Berlin factory.
In fact, the plant's Berlin address lists "Stadium Street." The "Stadium" part of "Stadium Street" is in reference to my high school's football stadium. The stadium sat between my school and the potato chip factory. (I was in the high school marching band. I marched down Stadium Street many times.)
You could see and smell the factory from the school on windy days. It smelled like french fries. Like fried potatoes.
The school district, Berlin Brothersvalley, consists of three buildings connected by a tunnel. That's the entire school district. When I started school there, the school district was only two buildings connected by a tunnel.
I was in the second grade when my family moved to the Berlin area. We rented a house for a few months. Our landlady introduced herself. She told us that she herself worked at the "chip plant." She gave us several bags of Snyder's potato chips as a housewarming gift.
A few weeks before my high school graduation, the entire senior class of Berlin Brothersvalley High School walked from our school to the factory. There were less than 80 of us. They divided us into several groups for our plant tour. We laughed about the hair nets that we had to wear. Several of my classmates waved to their family members who worked in the plant. This was our senior class field trip.