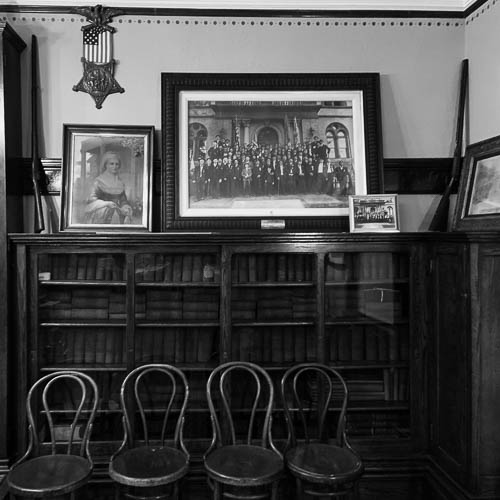 Update: I wrote this original post in November 2019.
However, tonight I went through the Gaffron Woytek Vault (aka my personal folders on my laptop) and I found several more photos that I thought that SOMEBODY, SOMEWHERE might find interesting.
So, the original post included four photos. I added three photos tonight. So, this blog post now includes seven photos.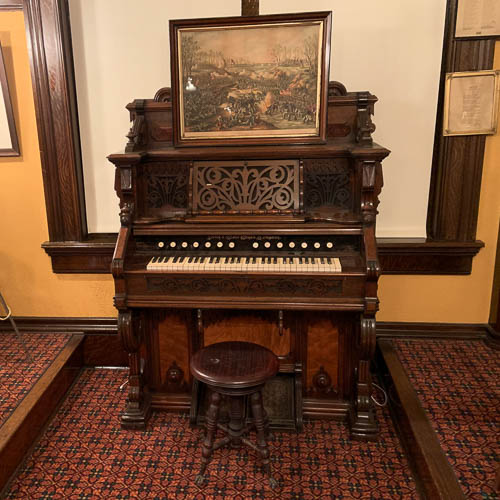 Andrew Carnegie endowed the Andrew Carnegie Free Library & Music Hall in Carnegie, Pennsylvania, in 1901.
From what I understand, Andrew Carnegie built this facility for the people of Carnegie after they named their community for him.
In 1906, the Captain Thomas Espy Post No. 153 of the Grand Army of the Republic (GAR) adopted a dedicated meeting room on this building's second floor.
The GAR was a fraternal organization open to honorably discharged Union soldiers, sailors, or marines of the American Civil War. So, this was a club for Union Civil War veterans.
I honestly don't know whether Post No. 153 was itself established in 1906. I forgot to ask the docent to clarify this.
Perhaps the actual post was established earlier? Perhaps they just happened to start meeting at the "Carnegie Carnegie" in 1906? (The locals call the Andrew Carnegie Free Library & Music Hall in Carnegie, PA, the "Carnegie Carnegie." They actually sell tee shirts at the front desk that say "Carnegie Carnegie" on them.) The American Civil War "technically" ended in 1865. So, the War would have been "over" for 41 years already when GAR Post No. 153 moved into this room at the Carnegie Carnegie in 1906.
I DO remember (as of my memory in May 2021) that the docent (that night in November 2019) told me that the GAR Post No. 153 "paid rent" by paying $1 each year and also by providing coal to heat the "Carnegie Carnegie" each winter. The docent told me that the Post members "were able to obtain free coal," or "had access to free coal" or something. Many of the post members worked in the local coal mines.
I have no additional information about how these post members "had access to free coal."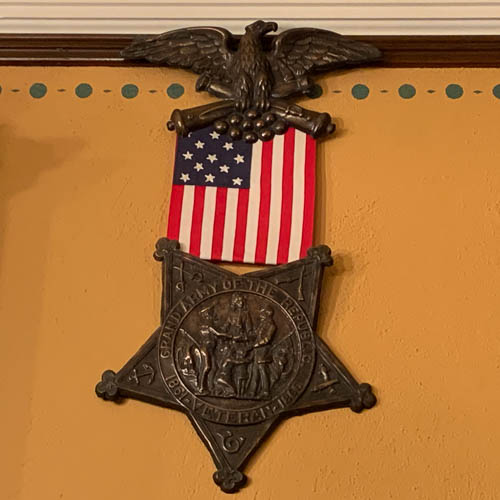 The final living member of this GAR Post No. 153 died in the 1930's.
How awful would it have been for a Civl War veteran to live until he was the final living member of his GAR post?
After this final post member passed away, somebody locked up this room with this post's Civil War collection – its library, flags, etc. – still inside the room. The room stayed locked for the next 50 years.
The room became a time capsule for Captain Thomas Espy Post No. 153 of the Grand Army of the Republic (GAR).
For instance, here is an ORIGINAL SPITTOON used by GAR members during their GAR meetings. As in, the GAR members spit their chewed-up tobacco into this: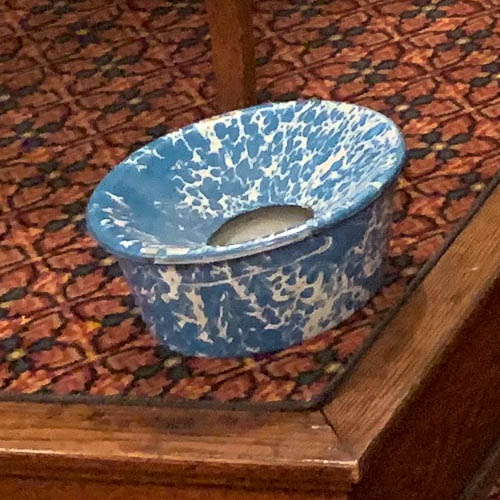 Here is their post's Bible: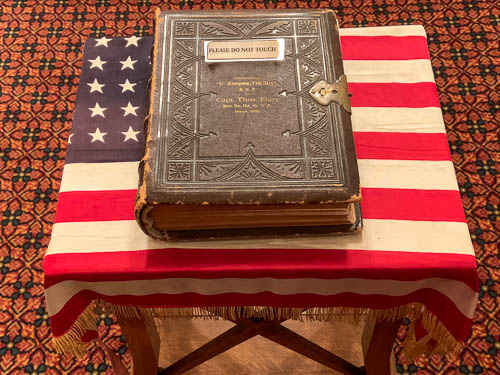 The room suffered water damage and deterioration. Preservationists restored the room into a Civil War museum – the Civil War Room – in 2010.
Volunteers attend and docent this museum for the public during limited hours. (Well, at least they did so pre-Covid.)
These volunteers opened it for viewing the night of Marie Benedict's November 2019 talk on her fiction novel, Carnegie's Maid, held at the adjoining music hall. I purchased a ticket for that lecture. I am a fan of Marie Benedict's work. I arrived early, so I first toured the Civil War Room.
(Also, I mentioned this earlier in my blog, but I joked to my husband that I had a ticket to "an event at Carnegie Hall.")